Some of the marketing blurb from Altair Astro:
"The Starwave 80 EDT-R refractor has a triplet ED lens system with a premium Japanese Hoya FCD-100 ED glass element. Super-high transmission coating (STM Coating) is used on all air-to-glass surfaces for high contrast. The focuser is CNC machined with a precision rack and pinion gear. It can be rotated smoothly on Teflon bearings. The focuser end-cap has a 2" self-centering pushfit adapter with stainless steel capstans for easy tightening. A 1.25-2" self-centering pushfit adapter with brass insert is included."
Specifications
Hoya FCD100 ED (SD) Air-spaced 80mm F6 Triplet ED lens system
480mm focal length
F/6 focal ratio
Weight approx. 3kg
OTA length with dewshield retracted, 39cm
2.5" "Rack 'n Pinion" Geared dual speed focuser with 1:10 micro-focuser
Standard 1.75" dovetail bar with stainless steel M6 cap-head screws included
Hard Carry Case with foam insert
Price paid £725
The scope was ordered and delivered the next day, so that was a good start. I also ordered a 1.0x field flattener, but unfortunately they shipped a 0.8x flattener for the wrong scope. They are (slowly) trying to sort this out, so in the meantime I am using a William Optics 0.8x push-fit field flattener. This is obviously less than ideal and a threaded flattener would be better.
Mechanically everything looks and feels very nice (better than the cost of the scope justifies). The focuser draw tube doesn't exhibit any slop or wobble and the focuser is smooth and nicely damped. The CNC focuser rotates around the optical tube and is again nicely damped and doesn't show any movement (other than to rotate!). The focuser has 2 female threads, an inner 59mm and an outer 63mm to accept a screw-on field flattener.
The 2" and 1.25" push-fit adapters are self-centering rotolock type and deserve special mention. As with the other mechanical components they are well designed and feel like quality products. I cannot begin to express what a huge improvement they are over the thumb screws and compression rings on my William Optics ZS71.
Otherwise the scope was clean and free of any marks on either the body or the optics. The tube rings and dovetail are reasonable quality, not blow-your-socks-off amazing, but good enough to do the job. There is no instruction manual or documentation anywhere in the known universe, so that's not great, but also not the end of the world. One minor niggle is that the dust cap has this felt-type lining that seems to shed particle of lint onto the main objective lens. I'm going to give it a good hoovering to see if I can get rid of the bits...
Amazingly and contrary to all expectations, I had a couple of hours of clear skies the night that the scope arrived to have a play and get some imaging done!
The Good
Mechanically very nice and inspires confidence
Focuser seems solid
The self-centering rotolock push-fit adapters are excellent
It comes shipped with a hard carry case
The Bad
There is no manual or instructions available either in the box or online (that I could find)
The felt lining on the lens cap sheds bits of fluff
Not really a bad, but the dovetail bar is only OK
Here are some photos of the scope as it comes (ignore the mounting for the red-dot, that didn't come with the scope)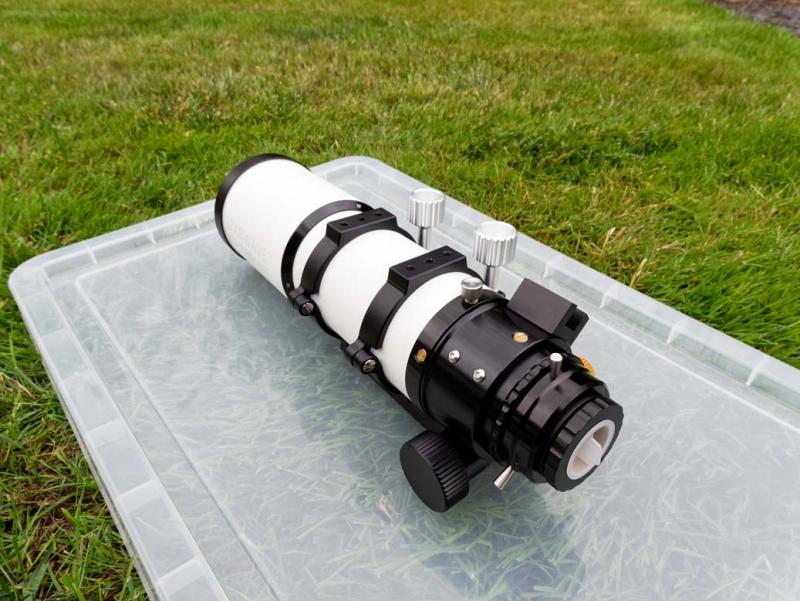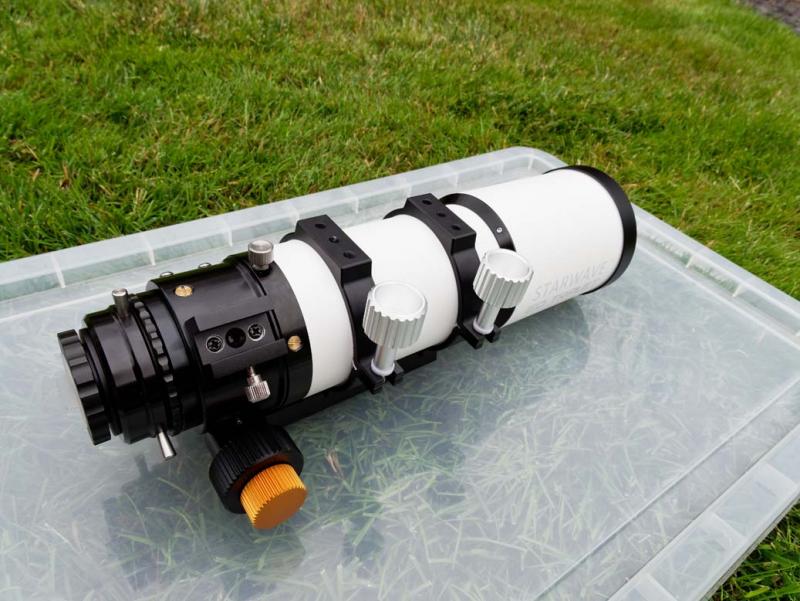 Here is the scope accessorised with red-dot, William Optics carry handle, guide scope and camera bits. The handle makes it much easier to carry and mount the scope and also allows the guide scope to be mounted central-forward to make balancing easier.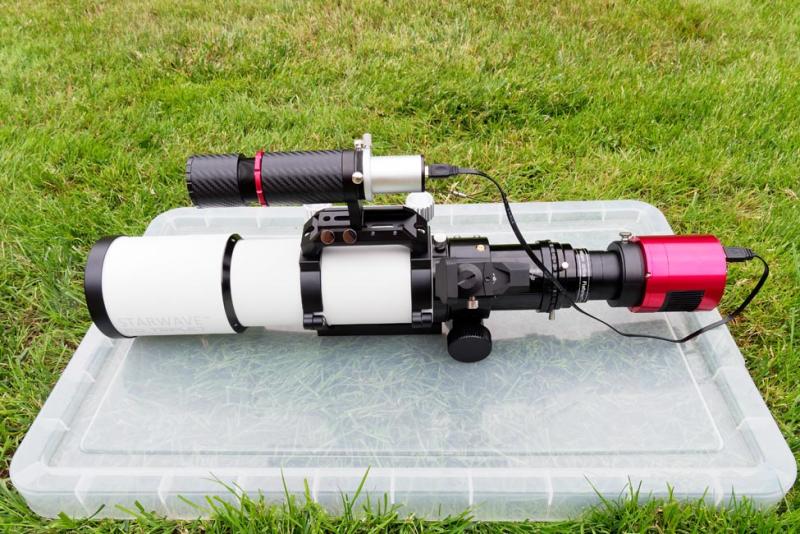 Please note that I am not associated with Altair Astro and paid for the scope with my own money, I've copied and pasted pieces of the description from their advertising blurb because I'm lazy.