I image from my deck which is about 5 feet above the ground. When I built the deck I left an opening in the floor for a pier, currently I have a 4x4 treated post there just stuck in the ground as a test setup. It works good for the iEXOS100 mount and ETX90 and even the 150MCT I use, but it isn't tall enough to comfortably use the AT102ED as near zenith I have to almost lie on the deck to be eye level with the eyepiece. I am trying to decide if I want a longer post set in concrete or a steel post bolted to the top of a concrete foundation.
Here is my current setup, the wood post would just be taller.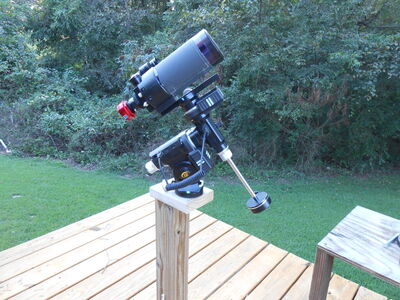 I am looking at this as a steel post
https://www.lowes.co...Post/1000205861
I could remove the jack part and put on some type of solid adapter for the mount.
I just wonder which would damp vibrations better, the solid wood or the hollow steel?
To keep the wood straight I have a box that wedges between the post and the opening in the deck that fits snugly and can be lifted up during imaging to isolate the post from the deck. If using the steel post, should it be filled with sand to help reduce vibrations?