A lot of scattered cloud this morning; and enough to the n'east to deny me that hoped-for comet (C/2020 F3 (NEOWISE)).........Circumpolar here and should have been some 20º following rising Capella but that not seen either. Of course it did clear there toward sunrise (03:45 UTC) and I was getting Venus then....so in hope for a correct forecast tomorrow.....
Mars: I could see at once some dust-affected albedo changes; so decided it was the time this apparition to get more filter work going.
#29 (Deep Red): can't say that this showed any particular localized brightness as I might have anticipated.
The assumed SP Cap (as opposed to Hood) looked somewhat leaden apart from a strip along the very dark collar which displayed some pretty obvious scalloping. So I'm thinking still a fair covering of cloud-mist over much of it.
IL (No Filter): as a prelude to what I say re. the #58 (Green) filter: much of the N Hemisphere was affected by a bluish veil – quite striking.
#58: not sure I've ever had such a striking view of, assumed, extensive bright mistiness (esp. N. Hemisphere) with this filter: also the SPC/H was starkly brilliant.
Normally I would do a separate sketch for any filter views, but given the 'ebb & flow' of the clouds I have simply used the same drawing and tinted-in the filter effects.
With the #58, and only with Mars it seems, I often see a pale-orange, sort of show-through, of the desert hues and was particularly evident this time. For e.g. used on Jupiter I see no such show-through of any warmer hues – not even the GRS. Wondering if others get that effect with the #58???
Venus: Notable was a very small bright spot near the North Cusp. As with Mars did not mess about with too many filters so the view here is the only one attempted...Dave.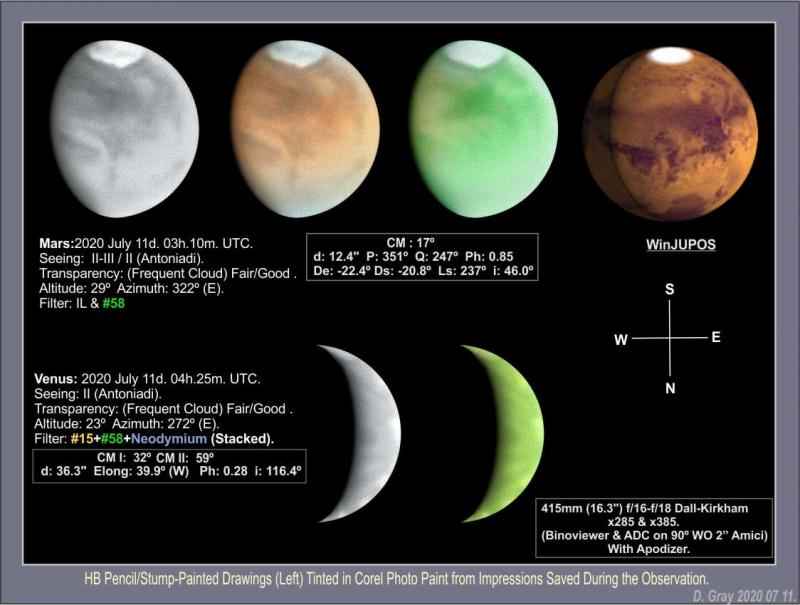 Edited by David Gray, 11 July 2020 - 08:56 AM.