Seeing only average but made a little progress. This shot of Jupiter is the best of numerous captures. My focus is still not sharp and easy to define in the camera. I've not take to bracketing exposures around what I think is the right focus but may have to resort to that. I have been successful (thanks to everyone who's been helping me) with greatly increasing the total number of frames from what I had been achieving and the improvement is beginning to show. I thought the linear features to the east of the GRS was some digital artifact but this morning I see on other's pictures that they are real. Still resolution challenged for a 12" scope. Starting to play with WinJuPos but it's not giving me much in the way of improvement yet. Jupiter is 25% of 38000 frames shot at 300 G and 3 ms exposure. About a 333 fps capture rate. 120 s total capture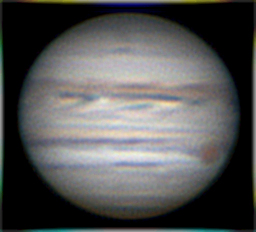 Still getting digital artifacts around the Cassini division. This is a 5% of 60,000 frames shot at 375 Gain and 4 ms. About a 256 fps capture rate. 240s total capture. Note: If I stack much more than the 5% serious double ring sections appear around the Cassini division. I've not yet tried using smaller AP's in AS!3 to try and improve things. These are using an AP=64.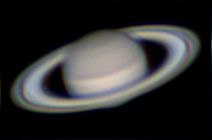 I'm not sure why my Mars images on average tend to be higher resolution than either my Saturn or Jupiter images. I suspect I'm still relying too much on focusing on the limb which works better for Mars than the others. Seeing has not been great (5 or 6/10). This is shot at 275 Gain with 3.5 ms exposure. About 285 fps. This is a 1% stack of the 68000 frames.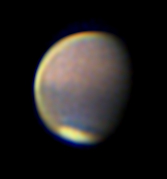 Edited by dcaponeii, 11 July 2020 - 08:32 AM.