Last October, I posted a thread about mounting my two-year-old Oberwerk 20x80 Deluxe IIIs on a Farpoint Parallelogram mount, and how doing so had transformed my large-binocular observing experiences from awkward, neck-breaking tedium into completely-comfortable all-night pleasure:
https://www.cloudyni...-parallelogram/
At that point in time -- like many big-binoc enthusiasts -- I had already been dreaming about a pair of 100mm glasses for quite a while. But an actual interchangeable-eyepiece binocular-telescope and its requisite heavy-duty mount weren't a realistic part of my financial agenda... so when I began reading posts about the relatively light-weight (and far less expensive) APM MS 25x100ED, and the apparent excellence of their optics, I felt like I'd possibly found the perfect solution.
As noted in the 20x80 thread, the Farpoint p-gram handles the 8.2-lb combined weight of the Oberwerks and the rifle-scope finder effortlessly... and my assumption that the APMs' 9.4-lb weight would be equally un-noticed has proven to be correct.
Among other possibilities in this size-range, I had considered the Oberwerk 25×100 Deluxe (10 pounds)... but their tripod adapter (same as the one on the 20x80s) would have required me to transfer the rifle-scope finder from the 20x80s, and that much additional combined weight, along with their being four inches longer than the APMs, seemed ill-advised. Also, while the 20x80s are reasonably sharp and moderately-well color-corrected in the central 40% of their FOV... I assumed that the 25x100 Deluxe model would be no different, and I was hoping for a significant improvement in both of those areas, without having to spend $2,000+ to get there.
The many CN posts about the APM MS 25x100EDs certainly indicated that such would be the case with them... and the purpose of this thread is to joyfully corroborate those findings.
- - - - -
I received the APMs the first week in May, and the day that they arrived had been partly-cloudy and a bit hazy... so initially I was only able to do a very minimal test of their optics during the early part of that evening. Fortunately, the haze didn't really interfere all that much, so I was able to check them out on Venus during twilight... and three hours later, on some dimmer stars, and the one-day-past-full Moon.
Looking at Venus during twilight was a less-than-optimal situation, since these binoculars contain a lot of glass... so even though they'd been sitting outside for half-an-hour, they were nowhere close to having reached thermal equilibrium. Needless to say, there was a ton of chromatic aberration, and there were "rays" emanating from Venus in all directions. But that was to be expected... so after briefly looking at Venus and a couple of bright stars, I left them outside until 11pm to cool down and equilibrate, and then checked them again.
Wow.
Optically -- due to their ED glass -- they are far superior to the Oberwerks, both in sharpness and color-correction. And at 25X and a 2.7° FOV, the Moon is so much larger than it is through the 20x80s (FOV for the 20x80s is 3.25°). For the first time ever, in a pair of binoculars, I was able to discern actual "fine" detail in the craters along the lunar terminator. Also, there is absolutely zero chromatic aberration. No yellow or purple fringe around the edge of the Moon whatsoever. And all of the "rays" that were shooting off of the bright stars that I'd looked at three hours earlier, were gone.
Wow, again.
By the way... regarding the "cool-down, equilibration" thing... with these big binoculars, it's real.
The day that the APMs arrived, it had been 90°F all afternoon... and by mid-twilight, it had only dropped to 80. Three hours later, it was about 65. That kind of temperature differential is typical here, throughout the spring, summer and fall... although fall is always much better than spring and summer. So in all honesty... neither of these two "large" binoculars reaches optimal thermal equilibrium until at least two or three hours past sunset. Both the Oberwerks and the APMs are "sealed", and they both have a lot of glass that needs cooling... so invariably, my best views with them are always after a very long cool-down... and sometimes, not until after midnight, when the air temperature has finally stabilized.
In the case of these APMs... the wait is completely worth it. Late-night cruising of the Milky Way with them this summer is going to be incredible.
- - - - -
Back to the Farpoint mount, for a moment... the large, solid "NICEYRIG" quick-release plate-and-head that I had linked in my other thread is no longer available from Amazon... but it is, from eBay:
https://www.ebay.com...353.m1438.l2649
Super-strong, super secure, and effortless to operate. I have no worries whatsoever about its ability to handle the APMs.
And while the single aftermarket control-handle that I'd put on the bottom of the L-bracket was an effective means of pointing-control... the addition of a second handle is infinitely better, and makes manipulation of the APMs effortlessly accurate. Many thanks to CN member "Samolot" for the inspiration to do so, via our PMs from mid-March.

Regarding how well the Farpoint handles the 9.4-lb weight of the APMs... I find that there is a different sort of "vibration" than the type that's experienced with a more "traditional" alt-az head that sits directly atop a tripod. With that type of head, "normal" vibrational oscillation at the eyepieces is very high-frequency... and the desired trait in one's mounting system is that those oscillations are minimized in both extent and duration.
With the Farpoint on the absolutely solid Oberwerk wooden surveyor's tripod, any high-frequency vibration resulting from positioning or focusing seems almost non-existent. But because the p-gram mechanism is itself basically a see-saw, with -- in this case -- a considerable amount of weight on both ends... there seems to be an inherently very minor low-frequency vibration that sometimes requires a second or two to dampen out. Interestingly, because it is such a smooth, "gently-swinging" sort of low-frequency vibration, my eyes seem to adapt to it far more easily than "normal" eyepiece vibration, such that it is not annoyingly disruptive to me at all.
- - - - -
Regarding the view through the APMS' optics... I have to confess that I wasn't initially sure whether or not the difference between the images produced by the 20x80s and the 25x100s would be "significant" enough to justify the APMs purchase... especially considering the difference in price. After nothing more than that first night's viewing session, I could easily have said that it was... and now that I've had more than two months of using them, I can definitely say so. During a dark-of-the-Moon, I was able to do a side-by-side comparison of the light-gathering differential between these two big binocs. Along with a midnight view of M13 to test resolution, early-morning views of things like the Trifid and Lagoon nebulae were more than adequate to tell the tale. The APMs are clearly optically superior in every way.
Oh... one other cool thing about the 25x100s, is that unlike the 20x80s (with their tripod-adapter's single, large, top-mounted clamping-knob), the clamping-head on the 25x100s' tripod-adapter doesn't interfere with my being able to point them at a target, using the naked-eye "line-of-sight" technique that I've been using with every other pair of binoculars I've ever owned.
In fact, the head of the APMs' tripod-adapter ends up being almost like the "iron" sights on a handgun... with the space between the head's two clamping-knobs acting like a large version of the rear-end "notch" on a set of gun-sights. Except, of course, that in this case, the "notch" is in the front. Still, having a clean line-of-sight above the central-rod's axis is great, and after two month's worth of practice, I'm now able to almost instantly point them with "dead-on" accuracy at any target. Looking at the pictures of the binocs on the APM website, I had actually anticipated that this might be true... and it is! Consequently... no need for any sort of finder-scope at all!!!

- - - - -
Final comments:
Like others have done, I cut off the annoying rubber piece that connects the objective lens-caps to the body of the binocs.
And "hinged"-style, one-piece, rear eyepiece caps drive me crazy. Turns out that 50mm-ID black eyepiece caps from Agena fit perfectly over the APMs' folded-down eyepiece-cups.
Also... as others have found, the central rod on my APMs was loose, and subject to rotation. There were comments about this, and about replacing the APMs' central-rod set-screws, in this thread, starting with post #57:
https://www.cloudyni...8x70/?p=9739447.
I did get the replacement 3mm Allen-head set-screws, but did not perform the tap-hole procedure described in the thread. Removing the original slot-head screws and replacing them with the hex-key ones was kind of a tight squeeze... but the central rod no longer rotates at all. I would caution, however, not to attempt overly-tightening these replacement screws, as you could easily strip their very tiny 1.5mm Allen-head holes.
Bolt Depot has the 3mm hex-key set-screws (no minimum quantity, inexpensive USPS 1st Class shipping), which need to be 3mm long:
https://www.boltdepo...mm_x_0.5mm.aspx
Word of caution: these screws are really small, and impossible to find if dropped onto a rug... so be sure to order extras!

Interestingly... I've been using binoculars since I was ten, and this is the first pair that I've ever owned or used, that have individual-focus eyepieces. Obviously, central-focus eyepieces are essential for moving targets such as hawks or aircraft... but for purely astronomical use, individual focus makes complete sense.
Nonetheless, I had always assumed that I would find using IF eyepieces to be annoying. Much to my delight... the exact opposite is true. When star-gazing with any of my CF binoculars, I find that I am constantly fiddling with and fine-tuning their mechanically-more-complicated central-focus mechanisms.
With the IF APMs, once their focus is set, that's it.

And....
Here's how the APMs look, on the Farpoint: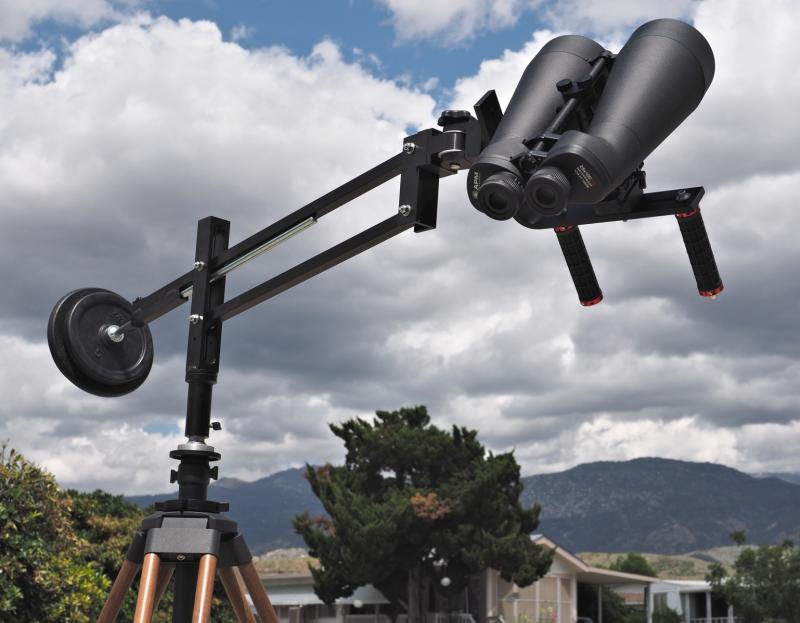 Edited by B 26354, 13 July 2020 - 01:43 AM.