After 25 straight cloudy nights, it was great to finally see the stars and planets again the night of 4th July. Work has been insanely busy, though, so it has taken quite some time to get through the processing.
Seeing was a little challenging, particularly the slow seeing effects (extended periods of blurring, for which I really like Darryl's description of "fizzing"). That made finding focus tricky and time-consuming, but the good news with this kind of seeing is that you can grab some good data during those fleeting moments where things settle down. Total usable frames were a little down however, so the final images have a little more noise than ideal.
The results of this session are best expressed by the animation, which first shows Io emerging from behind the sunlight limb and then shows Europa disappearing into Jupiter's umbra. Now you see them, now you don't!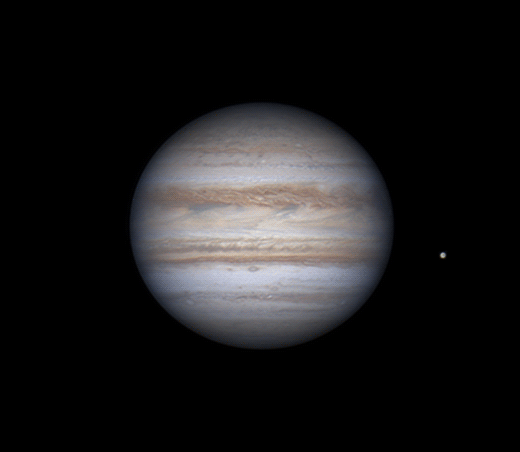 Each frame of the animation was created by de-rotating three individual stacks for Jupiter itself (to control the noise somewhat) and combining this with a single stack at the corresponding time point for the moons.
The usual gear: C11, ASI290MC, PowerMate 2x, UV/IR block filter, ADC.
Thanks for looking!