I took a quick look outside last night to see if the never ending clouds were even going to let me get a glimpse of the comet NEOWISE, and, even though Clear Outside was telling me it was not good conditions, the northern sky looked pretty decent last night, at least average, so I raced to get everything setup and see what I could capture. I decided to go with M51 based on its trajectory and my limited clear skies.
I didn't take nearly as many subs as I would have wanted to, only 60x30s light frames, but with so little opportunities these days, I just wanted to get some capturing done and go through the processes, because the more times I setup and capture, the easier it becomes. I cut my polar alignment time down from about 12 minutes with my first use of ASIAir Pro, down to 7 minutes this time. This is what I ended up with after I did processing on the stacked images: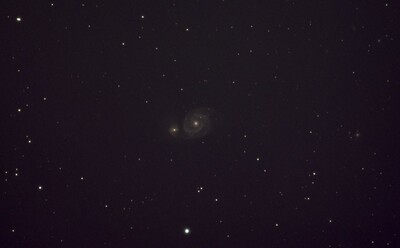 My imaging process skills are very poor. I'm only using GIMP right now, and really doing 90% of the work with stretching and curves. I know there are other tools/filters/etc probably in GIMP that could be used, but, I just don't know how to use them effectively. I'd like to eventually purchase PixInsight, but right now, my goal is to get capture data on maybe 5-10 different targets over the next few months, and sign up for the Free Trial of PixInsight to get a feel of how to use the tool on images I've taken, before finally making the purchase. I've been trying to download other people's data just to see how far I can get with it. I am learning the process seems to be very different between:
Images with heavy star concentration. A global cluster, or even something like a wider shot of the Crescent Nebula.
Galaxies. Pulling out the coloring of the heavy cluster of stars and gasses that make up the galaxy itself.
Nebula. Pulling out the coloring of the nebula.
One thing I find interesting is, during this pandemic, my community appears to have changed the lighting of our street lights. When I have imaged from my back yard previously, the older sodium-type street lights usually produced a higher output on red channels. Now, with these much brighter LED street lights that are being used, the green channel output is now much higher.
I know much more time would be needed to really have enough data to produce great results, but, I'd be interested to see what anyone else could do with this data using mainly PixInsight for processing. I don't expect it to be anything great because there just isn't enough time capturing, but I've also seen people here do much better than anything I can produce right now. Any other feedback on focus or other aspects (and how to improve) would be welcome as well.
TIF file of stacked frames:
https://drive.google...iew?usp=sharing