Hello Friends,
My skies cleared last night for the first time in nearly two weeks. Seeing was only average, unfortunately, but transparency was pretty good.
Spurred on by one of Ed's recent posts in his Lyra Doubles thread, I started out with 17 Lyrae (5.3/9.1, 3.2"). At 45x (3.3mm exit pupil) I noted the light yellow color of A, and counted four wide companions, the brightest being D to the northwest. C and F were somewhat dimmer, and formed a line pointing roughly north, while E was to the southeast at about the same distance as D. A little further to the east-northeast was a dim double separated by about 25", which I wasn't able to find in WDS.

Switching to the trusty old University Optics 18mm Ortho for a power of 100x (1.5mm exit pupil), B revealed itself to the west-northwest. At magnitude 9.1 and tucked so close to the primary, I had a tough time reading the color; at times it looked lilac, which in an unequal pairing often translates to an orange star. Unfortunately, I can't confirm my suspicions, as Simbad provides only a G-mag for B. Whatever the spectral type, this is a fine pair. Thanks to Ed for the recommendation!
Moving east into Cygnus, I located 52 Cygni (4.3/9.5, 6.6"). Unlike my previous target, B shone quite conspicuously at 45x. Bumping the power to 100x gave the miniscule companion a distinct bluish hue next to A's butter yellow. I saw the PA as just north of east, and estimated 80° (WDS says 70°). Switching to the 12.5mm Ortho for a power of 145 (1.03mm), B turned grayish green. Just lovely! I'm attaching some sketches from my gallery. Click for slightly more, but still not great, resolution.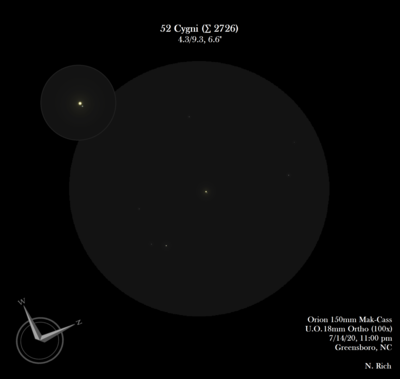 When copying the data for Upsilon Cygni (4.4/10.8, 15.2" and 10, 22.1") into my observing list, I neglected to include the C component – a serendipitous omission. At low power I immediately saw what I thought was B to the south-southwest; as my eye relaxed, a third component, slightly dimmer, suddenly appeared in between the two. What a sight! This was one of those moments of shocking beauty that took my breath away and reminded me of why I went crazy for double stars to begin with. The primary was what I call "lace white," or sort of a creamy color, while my B, which was actually C, was bluish. The real B, at tenth magnitude, had no color, but flickered alluringly in the glare of A.
If you're of the opinion that anything separated by more than a few arc seconds isn't worth passing through your optical chain, I invite you to drop in a low-power eyepiece and survey the scene around Upsilon Cygni. I then invite you, after taking your fill, to contemplate whether chocolate is worth eating and wine worth drinking, though vegetables and clean water are enough to keep you alive.
At 100x, I noticed a very dim double to the northeast, with a PA of roughly east. A little searching this morning brought up the designation SLE 383 (10.5/11.9, 15.1"), the discoverer code referring to French astronomer Guy Soulié (1920-2015). Monsieur Soulié seems to be more famous for his asteroid discoveries than his double star observations, with two asteroids, (1736) Floirac and (1918) Aiguillon, credited to him, and a third, (13226) Soulié, named in his honor. While not terribly difficult for 5.9 inches of aperture to make out, SLE 383's two dim components were nevertheless challenging to position accurately in a sketch.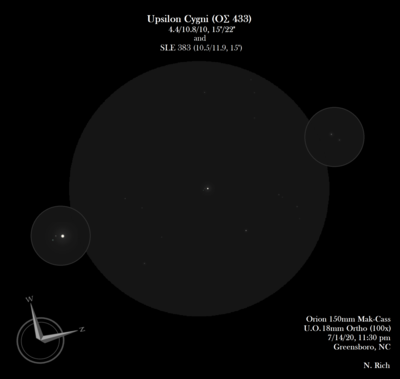 About five degrees south, and not far from Zeta Cygni, is STF 2762 (5.7/8.1, 3.4"), otherwise known as V 389 Cygni. At low power, potential components were scattered everywhere: I saw one about 50" to the west-southwest, another a similar distance to the east-northeast, and two more trailing a little further behind. 100x revealed a gorgeous golden B component tight to the northwest, its aureate luster brilliant and unmistakable. Another smasher!
Near midnight, my telescope and eye as acclimated as they were going to get, I moved deeper into Cygnus for the challenging STT 387 (7.1/7.9, 0.46"). Of course I wasn't going to "split" this pair with 150mm, but I was curious about what kind of shape I could make out of it. I first got a hint of an elongation, which I saw as roughly southeast, at 145x. Dropping in the 9mm Ortho for a power of 200x (0.75mm exit pupil) didn't show much more detail, but 270x (0.56mm) gave me a very clear egg shape, and allowed me to refine my PA estimate to east-southeast. At 360x (0.42mm), my highest power, I could just make out a defined angle where the spurious disks divided. It certainly wasn't a "notch," as there wasn't any black space attempting to wedge its way between the disks. Rather, B formed an almost rectangular joint against A. In my notes, I described the combined disks as keyhole shaped. With the average seeing not doing me any favors, I struggled to detect any asymmetry at all in the combined first diffraction ring, which was quite round. In all, I spent about 30 minutes on this difficult but invigorating observation.

If anyone has any more information about this system, please feel free to share it (looking at you, Fred).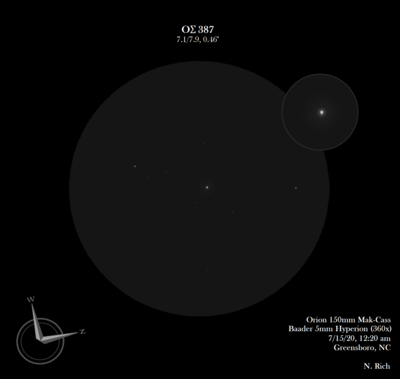 It's my habit to end the night with an easy showpiece, and on this night I chose Gamma Delphini (4.4/5, 8.9"). This was an early favorite of mine, and what a work of art it is! To my eye, A is sandstone pink, and B greenish yellow. Astonishingly, I had never taken the time to log Gamma Del's friend, STF 2725 (7.5/8.2, 6.2"), in my notes. Together they form one of the great double-doubles.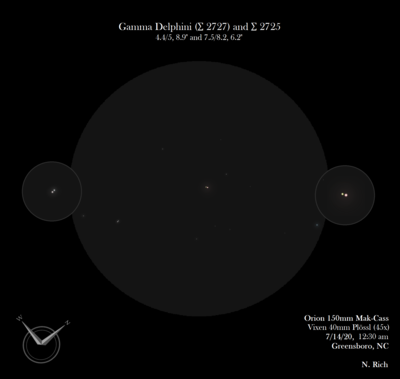 That's all for now! As usual, please feel free to comment or to point out any errors.