Good morning,
after I was struggeling a while with different equipment I recently decided to make my own custom built APO refractor. One of my first attempts in EAA was this: https://www.cloudyni...elp/?p=10096159 with a SW 80/400 Fraunhofer f/5. It was lightweight an fitted quite well for riding on my CPC800 but I had a lot of trouble with live stacking in SharpCap with the ZWO ASI120. It seemed as it the software could not find alignment stars. Frame after frame was being dropped an I was a little desperate and wondering if this was the 'normal business' of EAA.
Then I tried with a 100/600 triple lens refractor which turned out to be too heavy for the CPC. The alignment of the CPC did not work properly after the refractor was mounted on top. With a total weight of less than 4 kg I thought it should work, but it did not.
After a while I figured out, that the German shop Teleskop-Express offers a 80/480 APO lens kit at a reasonable price, which only weighs a little more than one pound. I hope it is ok to post the link: https://www.teleskop...-Lens-Cell.html. They offer 2 different teleskopes with this lens kit but each is over 3 kg / approx 6 pounds.
I thought it must be possible to build a leightweight telescope with this kit made only to hold a small CMOS camera. So I bought the lens kit, a hardpaper tube, a helical focusser and had an adapter made for the focusser. At the end I built some selfmade adjustable tube rings which fit into the finder shoes of the CPC (you can put a second shoe at the front of the scope).
Out came this: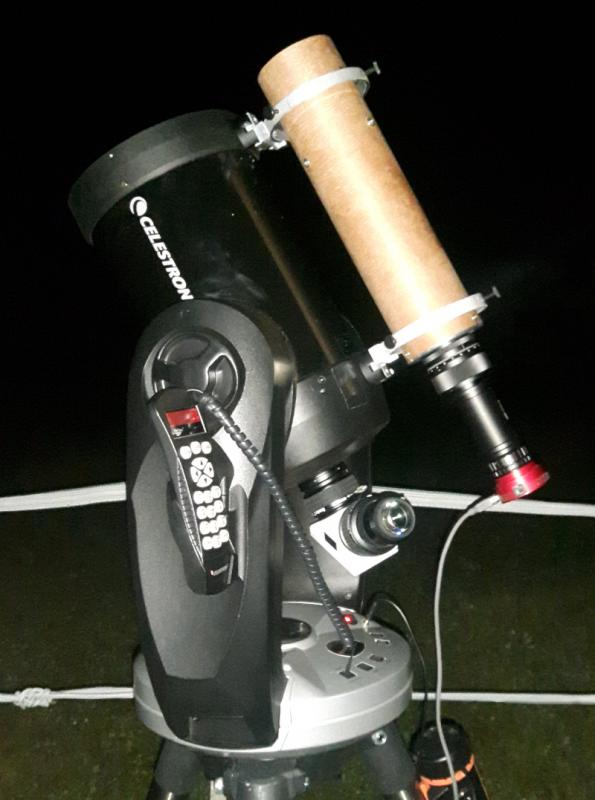 It is only 1,6 kg so far and the CPC seems to be fine with it.
Yesterday I had first light with this setup - and it worked perfektly!!! The image quality was much better than everything I had before and almost no frames dropped - SharpCap stacked and stacked, right as it should be. And I could even "see" nebulae that I could only dream of by using a scope visually in my lightpolluted backyard.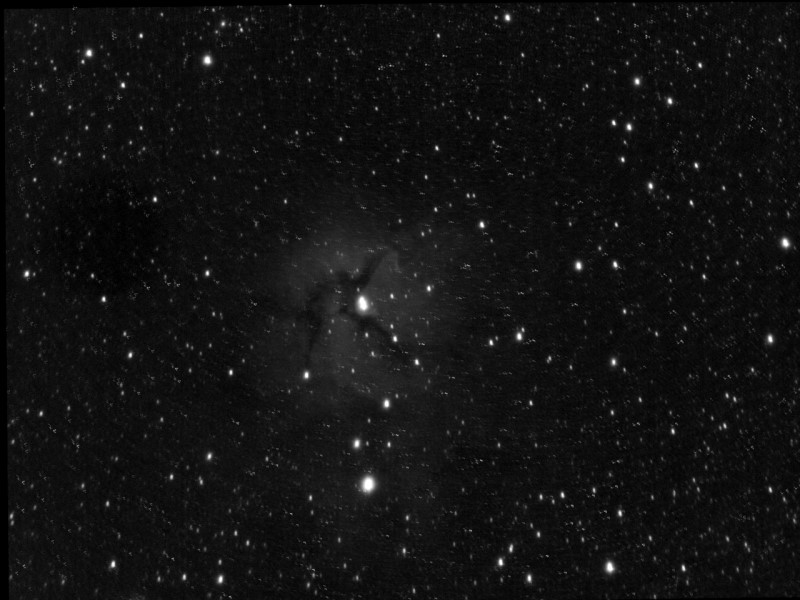 This is only one example. Please be aware that the scope is not even black painted inside and of course no darks yet. It was acually just a test to get into focus with the camera.
Making this custom scope is really a relief for me and a big step in getting better results in EAA.
Enjoy your sunday everybody!
CS.Oli
Edited by GazingOli, 19 July 2020 - 03:41 AM.