Hello everyone,
I need some advice on MTS-SN6 which I've recently got from Craigslist in terrible dusty/rusty condition.
It took me 3..4 days to clean it out and collimate, but star-testing results are not looking satisfactory.
My MTS-SN6 came from factory with "Multi-Coated Optics Group". After 35 years of previous ownership Schmidt-corrector AR coating was in terrible condition, so I had to remove it before using the scope. Luckily this old tech AR-coating was not bonded that hard and it came off easily after soaking for few hours in bathroom cleaner and whipping it off with a cotton ball.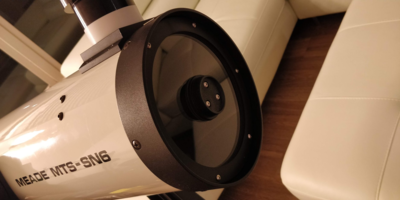 After telescope reassembly I did a star-test by Polaris, and could not see Airy disc at perfect focus with super high magnification (400x ..600x). I can see it in Orion XT8 flickering and distorting from atmospheric turbulence. But MTS-SN6 is like incapable to produce a crisp focus of a star, similar to being washed-out by spherical aberration - just a blob of blured light.
I have concluded that this "washout" comes from Schmidt-corrector (hex pattern from over-tightened mounting bolts):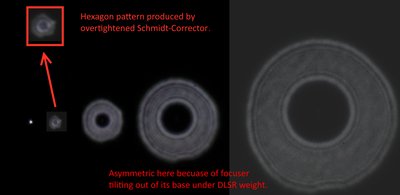 At tiny intra-focus I see that there is bright ring of a wave-front forming and about to collide in perfect Airy image, but it is being overlayed with dim disc of light of much larger diameter. From hexagon pattern of the disk I can conclude that it is produced by corrector plate. Could it be some reflection because of stripped-off AR coating?. Weather did not allow me to check it again with mounting bolts released yet.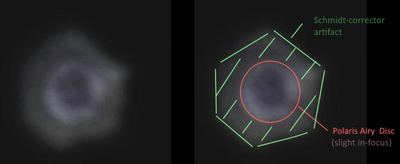 Moon images with prime focus DSLR and with 2.5x Barlow are good enough though, so I am wondering - maybe I am demanding too much from this old boy? Or should I research a possibility to re-coat Schmidt-corrector?
Edited by AlMuz, 22 July 2020 - 11:51 AM.