My 9TE was giving fairly sharp daytime views but compared to my Mayflower 814 and Manon I could see noticable purple and yellow fringing on the edges of details. So for the heck of it I opened it up this evening and took another look at the ring spacer.
It's metal, non magnetic, and silver where the black is nicked so I think it's black anodized aluminum. Keep in mind that this scope is likely from 1963. The rings in both my 60/800mm Crescent and cut down Mayflower 806? vari-power are metal and I thought they were both steel. Those two have a uncommon cell design that dates them circa 1959-61. I'll check them again as soon as I get a chance and report back.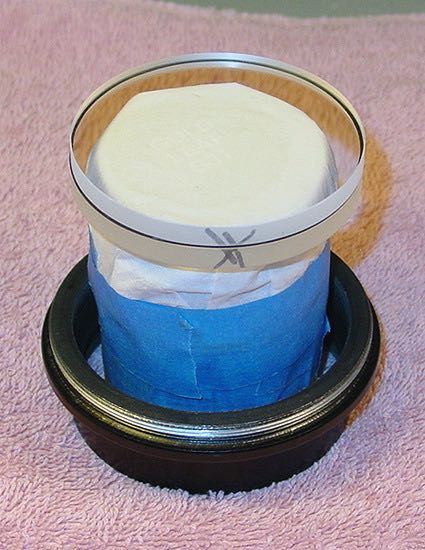 This photo was taken first time the lens was serviced after purchasing.
It's a bit of an illusion but you can still see that the ring is much thicker than most foil spacers
I was hoping to improve this lens and my first thought was to try the plastic ring from a Carton objective I have. The Carton shouldn't have one as it was done by a previous owner, who BTW, said the images were excellent. Anyway, instead I decided to make three spacers. One time I layered three pieces foil adhesive, but it's tedious and I'd probably need to stack 5 or so to match the thickness of the ring. Then I remembered I saved a aluminum soda can that I use for shim material.
I don't have a micrometer and it looks slightly thinner than the ring, but what's to lose? I can always put the ring back in.
Soda Can Spacers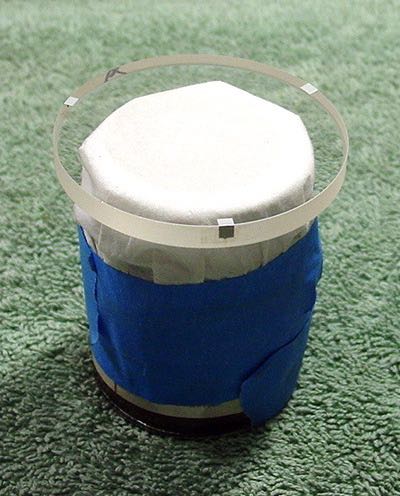 First I cut some strips with sharp scissors and burnished all of the edges flat the best I could. I then marked where I wanted to fold them with a dull X-acto knife, then held them in tweezers at that line, and folded them. Then cut the excess length off and taped them to the edge.
Note. Before I made the spacers I checked to see if there would be room in the cell to tape them to the sides of the flint. I noticed that the lenses fit the cell perhaps too loosely. So when I taped the spacers to the flint it was now snug but the crown wasn't. Meaning they might not be aligned when tighted. Therefore, I removed them both and tape them together at the three places between the spacers. Now when it went back into the cell it felt nice. One reason I bring this up. If it turns out there's an improvement in performance, it might be the alignment of the lenses and not the new spacers.
First I set up the Mayflower 814, but since it was clouded over, my only (not so good) targets were limited to a parked car and a couple of street lights at approx. 1/4 mile away. It was late so instead of a true side by side comparision, I replaced the Mayflower's OTA with the Tasco. I might be wrong but my first impression is, the view in the Tasco now looked as color free as the Mayflower. Tommorrow I'll try setting them up side by side to see if it truely improved it's performance.

If it did, I'll probably try it on a couple of more lenses I have.
Edited by Kasmos, 26 July 2020 - 11:50 AM.