Hi all, Jim Perkins (Q VP Operations) and I have been communicating about the new Q5, and he has allowed me to post some information for your review and comments, including a spec sheet and photo. Any errors and omissions due to my editing of his e-mail are solely my responsibility, as this is not a verbatim cut-and-paste of his message to me. Additionally, as an ex-Corporate marketing exec for over 35 years, I am erring on the side of caution regarding posting verbatim a few statements made, as features, benefits, and specifications may change without notice (consider this your 'be aware of forward-looking statements' caveat).
* * *
First updated versions of the Q5 were delivered to Questar earlier today. The newest version was designed to provide a full 25mm image size with a flat field edge to edge. Coma, astigmatism on off-axis will be reduced to almost zero. This will come into play with bigger CCD sensors and larger EP's.

We accomplished this by adding 2 internal correcting/flattening elements, similar to the Q700mm super-telephoto lens developed in the mid 70's, a design to fill a 35mm format film camera. Zero distortions edge to edge. This combo will make the Q5 as good as if not better than both the Q35 and Q7. If you look at the optical graph vs Field size you will see that the sweet spot is right around 19mm for perfect zero error and overall across the field is well below diffraction limited performance (1/4WPV).

As it is designed now, the Q5 OTA can be mounted on a Q7 EQ base unit and many other German mounts with 1/4-20 or 3/8-16 threaded studs or 6" ring mounts. The goal is keep the DP unit weight down and fit in one case and possibly integrate a tripod/pier into the system.

The Q5 base will have the same slow motion manual control knobs, slip clutches and circles for setup and alignment. What will be new are built-in digital circles options, PG3 drive system and object catalogues, and an optional integrated elevation drive motor. The goal is to provide a Questar-like functional base with a possible GoTo function driven from the PG3. The problem here is power, speed and battery consumption, and the approach will be what I call 'slide-to': we will utilize the PG3 drive and Questar base built-in slip clutches. The user can push the OTA toward the object and then let the drive system do the final positioning. This will save time and battery use/life, and provide the GoTo effect. The slip clutches and slide-to are actually much faster and quieter than conventional GoTo bases.

I am still working on the object package and verifying data, currently at 24k objects. The PG3 can be used for all Questar bases converted to PG3 motors; the PG3 can be installed in any vintage Questar base.

The Q5 base will also have taller fork arms and a possible instrument slide to help with balancing the telescope for better elevation function and near-equator function. This will help with the low latitude issues using a fork arm approach on past Questar EQ bases, as near the equator the actual base limits the user's ability to polar align and view objects. The goal is to keep the look of the Questar but provide a modern, more functional unit geared for the next generation of star watchers and phones.

Feel free to post to the users group. I am open to suggestions and ideas.
* * *
Please post any questions, comments and suggestions to this thread (the file size of the PG3 spec sheet is too large to post).
Thanks,
Ron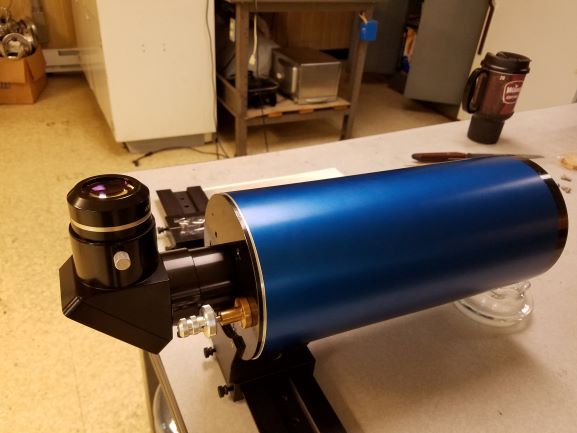 Q5 Field Model spec Sheet 2018.pdf 458.06KB 81 downloads
Edited by RMay, 30 July 2020 - 09:16 AM.