We recently acquired a Suunto Tandem. We wanted a simple handheld tool that allows reliable measurements of altitude and azimuth. For the Suunto Tandem, the manufacturer claims a precision of 1/4 degree in altitude and 1/3 degree in azimuth. We tested the device on the night sky and can confirm that these claims are correct.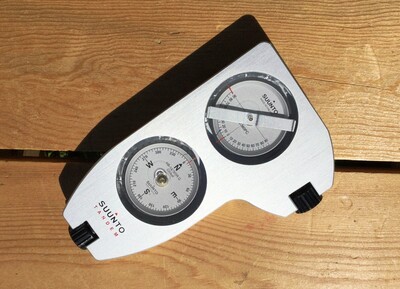 Combined inclinometer/compass
(click to enlarge)
There are a lot of astronomical applications for a device like this. We find it especially useful for locating objects in the daytime sky. To do so, we look up the current horizontal coordinates of e.g. Venus and use the Suunto Tandem to look for the correct spot in the sky. The altitude value from Skysafari can be used without any correction. For the (magnetic) compass bearing it is necessary to subtract the magnetic declination from the (true) azimuth that Skysafari gives. The procedure is straightforward and makes it very easy to find Venus in the daytime sky or e.g. a comet like NEOWISE in the still bright evening twilight.
In the morning of August 1, 2020, we used the Suunto Tandem to point a small 2.6" Apo on an alt-az mount at several celestial objects. The best way to do this is by holding the Suunto Tandem against the sides of the zenith prism, using the two contact edges of the device - first to adjust the azimuth, then the altitude. This makes it pretty easy to point the refractor at the desired horizontal coordinates. All objects we visited with this method were nicely centered in a low-power field of view.
During our observations the sun was already 25 degrees above the horizon. To be safe from accidentally pointing the scope at the sun, we had set up in the shadow of a small hill on our property. For locating the objects we used a 24mm Panoptic, for detailed observations we switched to a Hyperion zoom, used without and with a 3x Barlow. Here is what we saw:
Venus was a bright silvery crescent against a deep blue sky. With all magnifications from 17x to 50x it was very easy to observe, a true showpiece.
Mercury was a bit harder to locate at -0.8mag. But once we had detected the planet in the eyepiece, we could boost the magnification up to 150x. With a diameter of only 6" it showed not only its gibbous phase but surprisingly also a dark marking on the southern hemisphere. After checking with albedo maps we suspect that we saw "Solitudo Iovis", a prominent dark feature. Amazing.
Sirius was the real heartstopper. It was at an altitude of about 23 degrees hovering above a treeline on the horizon. With the 24mm Panoptic at 17x the bright star was standing there, sparkling in a light blue sky above the intensely green treetops. This was one of the most eerie astronomical sights we ever had.