I am writing this thread to share a scalable pdf file of an azimuth circle I drew five years ago, and to offer some tips on using it. Several of you have used this with reportedly good results. I've even printed and mounted a mini one for an alt-az refractor for a CN member as a trade for a finder.
The key to this design is that it is a ring that straddles azimuth pads and can be spun at setup to agree with the azimuth coordinates of a known object. Because the values increase in a clockwise direction this is designed to be stationary in use with a pointer that moves with the scope. That is my preference, as it keeps the readings directly below the focuser of my dob.
The original one has stood up extremely well to five years of use. It was first laminated, then adhered to Baltic Birch plywood, then routered outside and inside, and then sealed with clear spray paint to avoid moisture penetration into the edges. I'll show these steps in detail in subsequent posts.
First of all, here is the file itself.

setting circle2.pdf 162.83KB 58 downloads
Printed at 100% size the outside diameter is 20 inches and the circle of the degree scale is at a 9 inch radius.
This is what it looks like on the folding base of my folding 10" dob.
On this scope the setting circle HAD to be a ring rather than a disk due to the structure of the base. Those shower door rollers in the above photo bear on the edge of a 12 inch hole in my rocker box. I've learned, however, that this style works very well on traditional dobs and minimizes the rework involved as compared to full disk setting circles.
To show how this looks printed at 80% size and mounted on a more traditional dob, here it is on a 6" Orion Starblast tabletop dob I reworked with and for a club member this spring.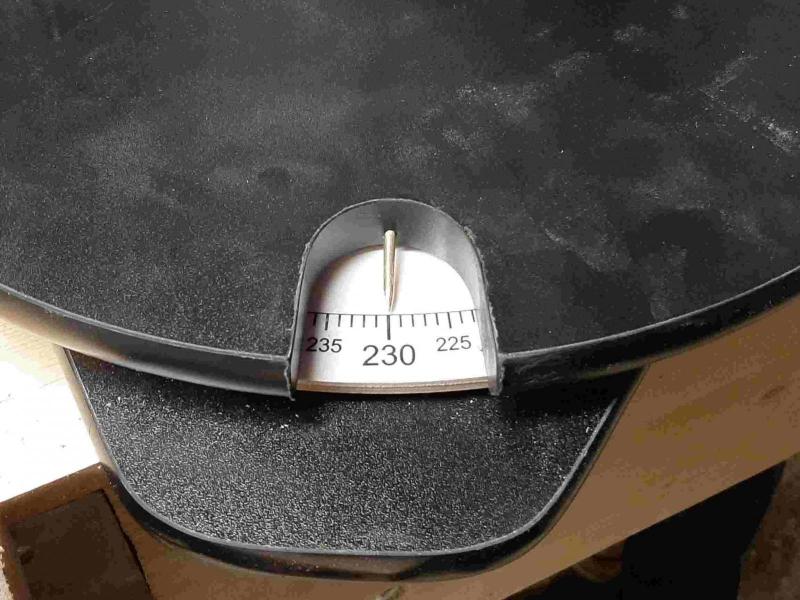 Please bear with me for a while. I'll post numerous photos with steps detailed over seven or eight posts or so, hopefully within a single day.
Edited by jtsenghas, 04 August 2020 - 03:21 PM.