There was an earlier thread here that discussed the derivation of formulas for the Newtonian diagonal. I decided to do that very thing from scratch, and validated it with the Zemax lens code. The basis for this derivation is the 2D intersection of two vectors, in this case a ray from the upper side of the primary and semi-field, or the lower side of the primary and semi-field, with the 45º line representing the diagonal face. Earlier derivations (Ralph Dakin's in particular) have appeared in literature, but they were based on paraxial optics (flat primary rather than curved, and zero aberrations). The added twists I've added here are that
(1) The sagitta of the primary mirror is accounted for, and
(2) The third-order tangential coma height is used rather than just the paraxial image height.
For almost any practical Newtonian, (1) and (2) can be set to zero to give a good approximation. However, since I personally hadn't previously seen an exact derivation that includes (1) and (2), I present it here.
The formulas look a bit messy, but program nicely in Excel (attached). I validated this work using several different Zemax files and it does indeed give very precise results. If I have made any typos, please bring them to my attention.
Mike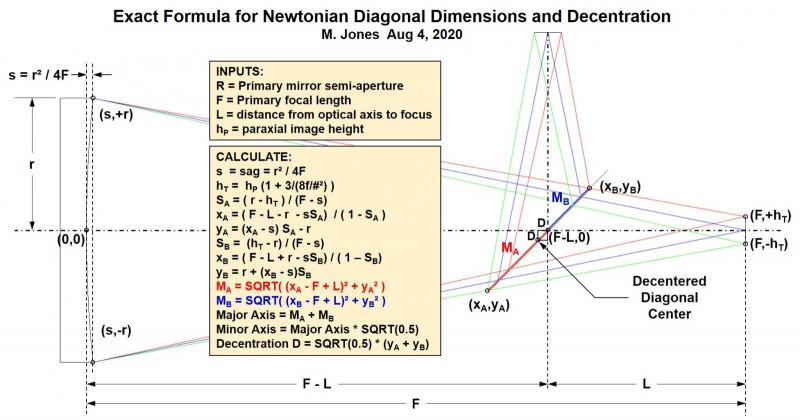 Derivation calcs.xlsx 12KB 9 downloads