I have enough EPs to cover all focal lengths that I need during observation, but after experiencing convenience of Baader Hyperion Zoom, I started to think about zooming with my favorite EPs.
Here is my take on variable barlow.
Idea is that barlow is fixed and I move eyepiece away from barlow to increase magnification or closer to the barlow to decrease magnification. After I move EP I have to refocus, when magnification increases, focuser must move inwards (closer to telescope).
Here is schema:
Grey – Eyepiece
Blue – EP holder - 3d printed ring – 1.25'' inner diameter, 44mm outer diameter, height 20 mm
Brown – metal rods – allows sliding of EP holder from/to barlow element, made of 3 mm welding wire
Black- standard 2''->1,25'' adapter from the telescope
Green – stopper to avoid barlow element falling into the tube
Orange – barlow element – unscrewed optical part of barlow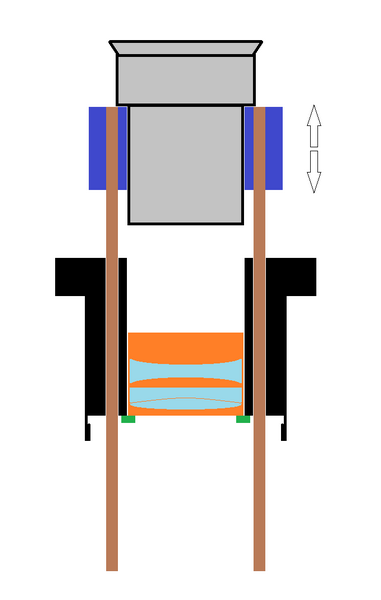 Zoom barlow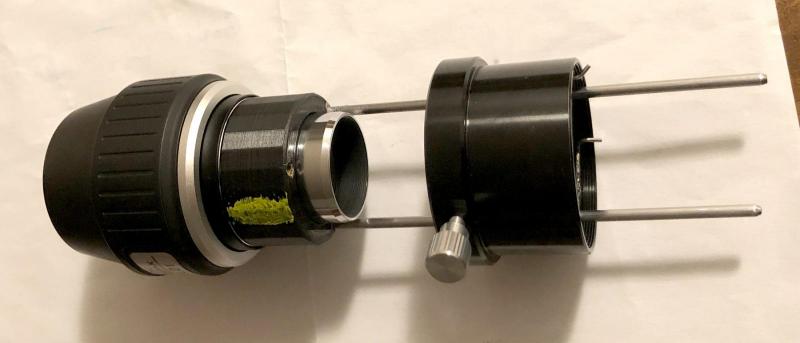 Components (from left: EP, EP holder, barlow stopper, 2->1.25'' adapter, barlow element from TV 2.5x)
Ready for action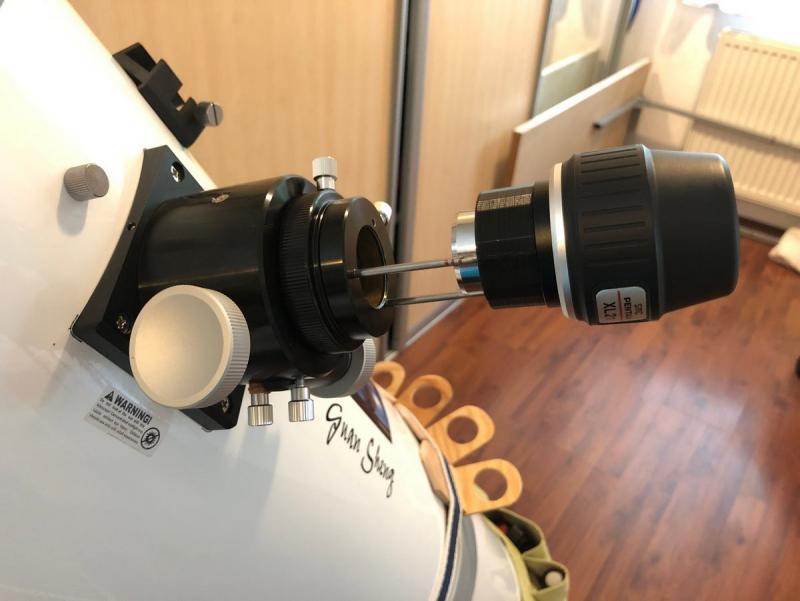 Making of:
EP holder
was printed on 3D printer. You can make it from wood as well. Just drill 1.25'' hole and leave enough material for wall to hold EP fixing screw and metal rods. Alternatively use any 1.25'' EP holder to which you can affix metal rods.
I have made it 20 mm high on purpose, it's less than length of EP nose. Protruding EP allows me to get closer to Barlow for minimum magnification.
Preparing 2->1.25'' adapter
Using drill press drill 2 holes into 2->1,25'' adapter. Hole diameter must allow metal rods sliding easily through them, but don't let it wobble.
I've put long barlow into EP holder and protruding part of barlow into 2->1.25 adapter. This way both parts were concentric. Then I used holes in 2->1.25 adapter as guides for drilling holes into EP holder. Drill bit was too short, so I had to finish drilling with drill press after I removed EP holder. I have used 4mm drill bit to drill holes in EP holder – reason for bigger holes is to allow some adjustment during gluing and leave space for glue.
Guiding rods
are made of 3 mm steel welding wire, but you can use any strong and straight steel. I had to sand (with sanding paper) it down a bit to allow free sliding in drilled holes. (in fact that wire is 3.15mm in diameter and I drilled with 3.2mm drill bit). Rods are of different lengths - one is 135mm long, another one is 140 mm. When I'm assembling the kit, it's easier to stick them into holes when you can make it one by one, rather than both at once.
Assembly
Put a glue into EP holder holes - I have used Mammut construction glue, but any silicone would be good as well, it does not have to be super strong, there are very low forces on such long contact surface. Put rods into holes. Until they are flush with top of EP holder, remove excess glue. Put rods into holes of 2->1.25 adapter, push them in until EP holder touches 2->1.25 adapter. Put long barlow into EP holder and 2-1.25 adapter to keep them concentric and let the glue set.
Barlow stopper
I have used some spring wire that I can easily put into bottom part of 2->1.25 adapter and simply remove it when I need to use 2'' filter. Shape is crazy and I did not bend it - it was already shaped that way, so made it simpler for me, I just made those "handles" that stick outside of 2->1.25 adapter. When I push then together, I can remove the spring. I needed something removable as this is my only adapter.
What barlow to use
Short barlow like Baader Q-barlow allows big range of magnifications. Long barlows like TV barlows offers smaller range of magnifications. Look at the chart below. How distance between EP and barlow affects magnification.
Notes
Friction of rods is sufficient to hold EP in place without creeping towards tube, but is still smooth enough to move it without moving the telescope as well
Rods are going deep into focuser – I cannot use 2'' filters and it would not work with diagonal mirrors – unless you can use extension tube.
More you zoom more infocus you need, sometimes lack of infocus is limitation for higher magnification – then use Ep with shorter FL.
Be carefull not to pull out rods completely – EP may fall non the ground – you can make stopper at the end of the rod
High magnification leads to big eye relief – EP with adjustable eye guard helps to hold proper position of eye.
When you are too far from focuser (10 cm), you will start seeing things around the focuser – this is distracting and decreases contrast
teleextender / telecentric optics / powermate will not work as it's magnification is independent from distance to the EP
In use
When I'm observing in my 10'' F5 Dobson I use 35mm EP along with RDF to find an object. Then I switch to 21mm Pentax XL. When I want higher magnification a use 21mm EP and zoom:
Install stopper, throw a barlow element into 2->1.25 adapter, put rods with EP holder into holes on 2->1.25 adapter, put 21mm EP into EP holder and I enjoy zooming. I will purchase new 2->1.25 adapter so I can have one standard and one with permanently installed zoom mechanism.
I do not claim that zoomed EP is better than native focal length EP, but this concept is very usable. Last observations of Saturn, Mars and Jupiter were very convenient with this zoom barlow. I have quickly found ideal magnification for current seeing conditions. I tried also to resolve double double in Lyra, or look at M13 - works great!!!
Even if it's open system, stray light is not affecting contrast unless someone shines light directly on a "zoom barlow"
Considering simplicity of construction, quality of views and convenience of use, I really recommend you to try to build it.
I'm yet to try it with Morpheus 17,5 mm EP. That can be a dream combo.
Which barlow to choose?
I don't have answer, it depends what you have or how much zoom range you'd like to achieve. Here are some measurements I did with barlows I have at home.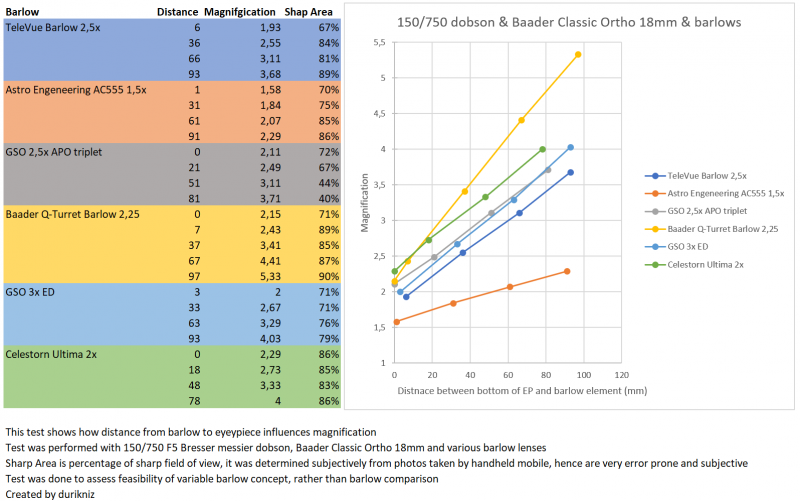 If you'd like to look at pictures, here they are,
https://www.dropbox....Sfp7aekELa?dl=0
take them with reservation, I took those photos with mobile handheld and it was PITA to position it properly.
Juraj
Edited by duri_jk, 04 August 2020 - 07:22 PM.