Hi guys -
I modded my NEQ6 with a Rowan Belt Mod and have not been able to get it working well since. The mod went well, the mount was in good condition inside with no real wear and the tolerances were good. I cleaned and regreased everything with the Geoptik grease and I replaced the worm bearings with better ones.
Now there are problems with both RA and Dec, but Dec is particularly bad. I'm attaching my guide log from tonight where I tried to sort this out. The guiding assistant measured the backlash as fairly large in Dec, but I can't feel any wiggle when I physically try to move the Dec axis. Certainly in the log, in the 6 minute guide session you can see what looks like Dec oscillating back and forth and falling into backlash every time.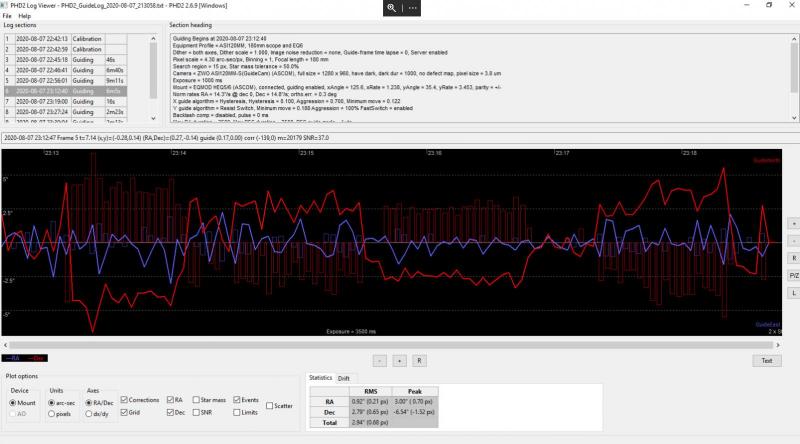 I wonder what I can do to correct this? I've adjusted the worm set screws by finding the physical backlash wiggle, then tightening the worm a quarter turn at a time until the wiggle goes away, then I tighten everything down. After seeing the apparent backlash in PHD, I tried tightening it further but that just led to the mount binding.
RA isn't great either, as you can see, but that seems to be a different problem. Any suggestions? I'm at my wits' end with this.
Cheers,
Peter