I did. And here's how:
If anyone is interested in obtaining a decent Ross Null Lens of known quality, I suggest making one yourself. I made this one shortly after Ceravolo published his article on the use of one over 20 years ago in TM magazine. I ordered BK7 blank (4") and tool glass (Pyrex) from United Lens. A machinist friend made a wedge testing jig and a two ball spherometer (not pictured) which assisted in reaching ROC of the convex side. I also used wet tool and sun, knife edge and ronchi testing on the tool to measure radius. Once I hit close to target, and finished fine grinding I began polishing lens and the tool so that I could fringe test the lens convex side against the tool once I established that tool was spherical. To polish the tool, I made convex dental stone tool cast against the tool. The small triangular bits of tape spaced 120 degrees apart on the outer edge of the tool from testing are still apparent. The plano side took longer. Bob Folllet's widow had given me one of his 5" optical flats which I used to fringe test the plano side. It's depicted as well. Bob had told me that when he and his dad made flats, they were figured until there was no deviation from straight lines on the flat. The other devices pictured are a spacing rod from object to lens used in a project and a jig to measure and determine wedge. I was not able to detect wedge in the lens after correcting as best as could being limited by my ability to measure it beyond .0001". The jig and the spherometer shared a dial indicator. The spacing rod is a section of carbon fiber rod (arcane description of the salvaged broken tip of fishing rod) with ball bearings epoxied in when I was satisfied of the measurement by repetitive sanding one tip end and measuring with ball bearing in place. The opposite end had a fixed ball bearing in place. I used the lens for a handful of projects supplementing Foucault and star testing. The skills necessary to make a RNL are rudimentary to anyone who has figured a mirror, provided one has means to test the plano side either by optical flat or patient enough to master the Raleigh water test. (I suppose a biconvex lens could be made without the optical flat as the software anticipates biconvex.) I worked both sides until I was able to obtain straight fringe lines (I don't remember the count but I believe 3 or 4) but they were arrow straight to within .5" of the edge. I can't find the log which in I had sketches illustrating the progress, but it's long gone. I masked off the outer .5" to give a clear 3" aperture of lens. Gil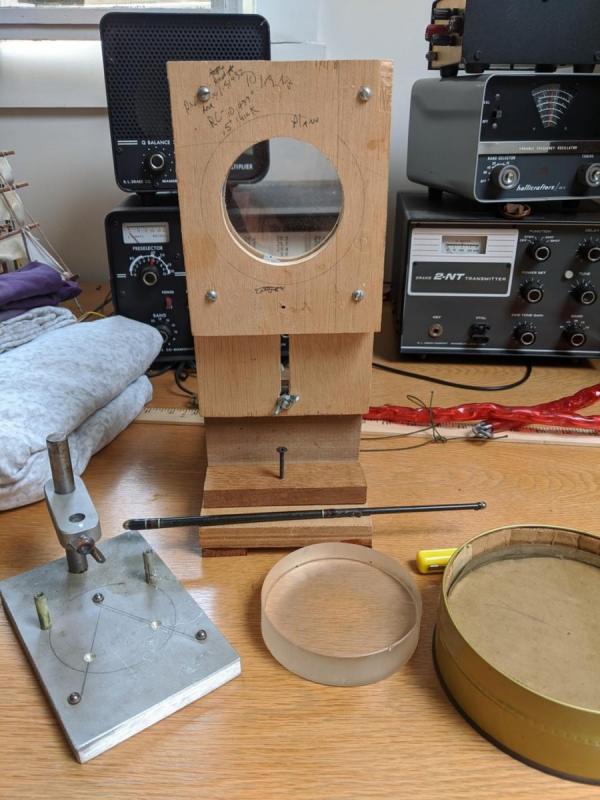 Edited by GLS, 08 August 2020 - 01:39 PM.