Hi all, so recently I ventured into using camera lenses with my ASI1600. My main goal was to use my 3nm narrowband filters to do some more widefield narrowband imaging. As a regular photographer I only use manual focus primes, so I already had various options to try. These included the Zeiss 100 f/2, Zeiss 85 f/1.4, Nikon 105 f/4 macro, Nikon 200 f/4. I had a Samyang 135 f/2 and Nikon 180 f2.8 in the past although I have not used those for narrowband, only RGB. Recently I added a Mitakon-Zhongyi 135 f/2.8 and a used Canon 200mm f/2.8.
Why the long intro? Well because the Canon really blew me away. It was the first time when I looked at the stacked image afterwards, and corner performance did not dissapoint.
The image below is a HOO combination. When doing Ha I had an issue with recalibration after the automatic meridian flip (was temporarily using ST-4), so I only got 5x480 seconds. In the morning I decided not to take flats because I did not think it would be worth processing.
However 40 minutes was enough for a nice image. Without flat correction the field looked completely flat. I used a 72->52mm step down ring so the effective aperture was f/3.84. Really nice to see that the 1.25" mounted filters are easily handling this aperture.
For €350 this is one of my better astro purchases, highly recommended!
5x480s Ha and 25x480s O3: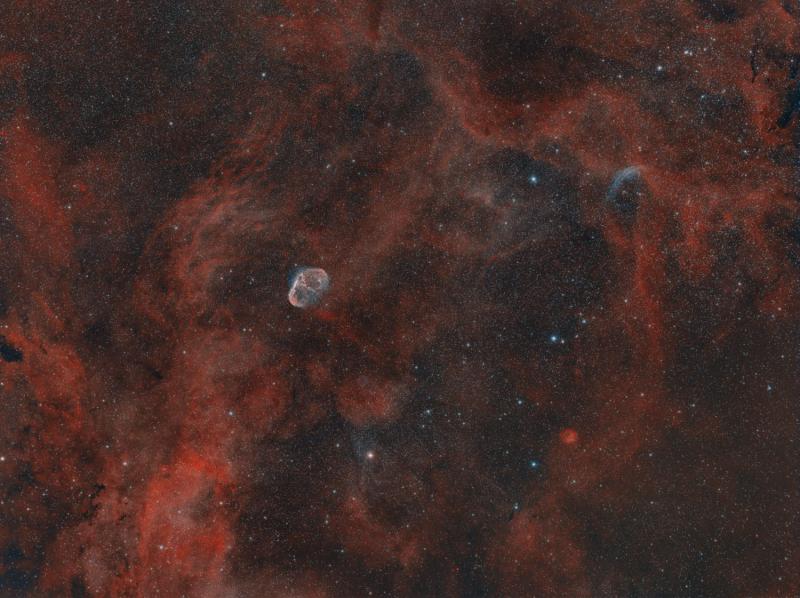 Edited by RJF-Astro, 12 August 2020 - 03:01 AM.