The Edmund 4" came today. Its box was a bit beat up around the edges, but not badly.

It was packed well internally, so everything stayed in place. The custom box is lined with red velvet, and has spring-loaded brackets to hold the OTA and finder.

All of the accessories were bagged, and paper was stuffed firmly on all sides. The planisphere has a tag from Wayne State University, and was 60 cents. The catalog envelope (which I think may be the one that goes with my 1968 catalog because of the matching cover text) has 12 cents postage, plus 2 cents extra postage. That may help dating it.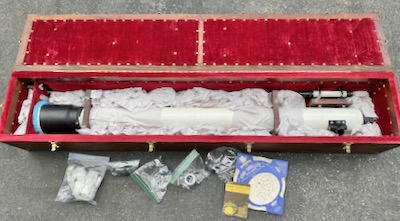 The tube is somewhat dirty, but just a few nicks in the paint. The dew shield is a bit scuffed in a few places, but otherwise straight, and fits snugly. It has the three standard eyepieces, diagonal, extension tube, barlow, and a T-adapter with a Miranda thread mount. It also has the bracket for the camera mount rod, which I will probably make into a solar projection screen holder. The finder has a few of the usual nicks from the mount screws, but it really in very good condition, with intact crosshairs.

The objective came through unharmed, and is free of chips or scratches. The original Palomar Junior lens cap brings back memories of my first serious scope (a Deluxe Space Conqueror). It's still flexible, and the elastic is springy. They deteriorate easily though, so I'll get something else to use as a cap and store it away,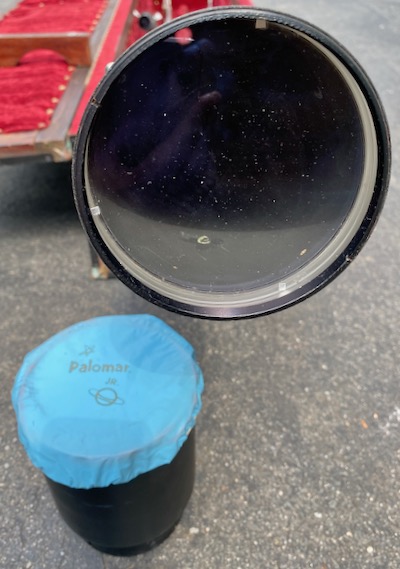 I knew from the seller's pictures that two of the spacers had moved. Checking it under a fluorescent bulb, the Newton's rings are indeed all the way to one side. I'm not looking forward to unloading these lenses, since the cell can't be removed without having the screws fall inside. But maybe it I'll do that anyway. Checking it with a cheshire eyepiece shows it to be out of collimation. But there's no fungus, just some light haze, and a bit of dust.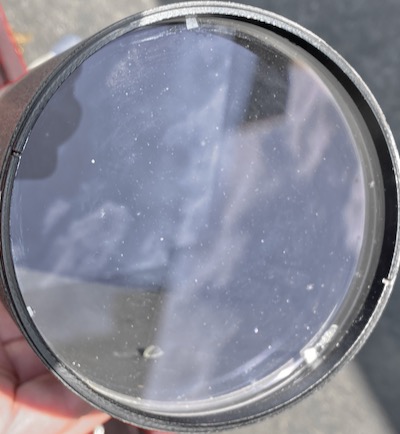 The focuser has some bad corrosion. I cleaned it up, but that just revealed the loss of paint. It should be taken apart and given a recoat. The mechanism, however, is fairly smooth, and it seems to not droop.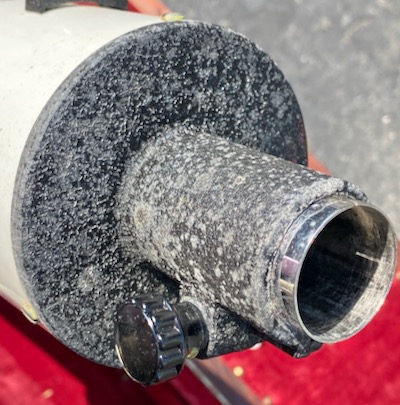 I took it for a test-spin on my favorite test subject (a building about 8 miles distant), using my favorite test mount (a kitchen chair), and despite the issues with the spacers and collimation, it put up some very nice images. I was seeing detail that the 76mm Astro optical scopes struggle with. Quite sharp at 250X, and even held up fairly well at 375X, although the CA was becoming obvious at nearly 100X per inch. I'm looking forward to seeing what it can do when the issues are resolved.
The Edmund diagonal, even though the prism is loose, was sharper than a Celestron prism. Using the extension tube meant that the focuser didn't have to run out very far, and the fact that it slides about 4" into the focuser tube seemed to reinforce the long extension. However, it really struggled to keep heavier eyepieces upright. Fortunately, it also gave nice views with some lightweight Celestron Plossls. I'm not sure if I want to try to restore the focuser, or replace it with something more modern for actual use. I worry about it dropping eyepieces, but it's still quite usable. Perhaps I'll restore it, but then store it with the lens cap and accessories. First I'll give it some time to see how it goes.
The original eyepieces were not nearly as good, and although the barlow has nicer optics than the one that came with my Space Conqueror, its still not great. Those will get bagged up and stored.
The tube cleaned up nicely, but it has a purple stain in the paint, running down the side where it was in contact with the velvet. I tried Flitz, cleaner with bleach, and mineral spirits on a small spot, but it seems fairly permanent. If anyone has suggestions, I'd love to hear them. The anodizing on the outside of the dew shield also polished up well.
Although it's long, I'm impressed with how light it is. I have to make some brackets so I can get it on a mount (all of the Edmund reflectors are out on loan). I'm thinking I can adapt it to a dovetail, and put it on my old 706 mount.
Should be a fun project. I hope to have it ready to use with my current class in a couple of weeks.
Chip W.