Hello Friends,
There have been several previous threads on this specific topic but all are now archived.
Our own Mike G. put a fair amount of work into a SELSI 30X70 binocular and apparently wound up rather disappointed.
I still feel a little sad for Mike.
Are these binoculars just bad?
They certainly are "touchy" little crafts due to their intense magnification.
Kenny harbors a certain amount of disdain for any binocular operating at 30X. (Quite understandable).
SMark claims he learned the skies with this instrument in younger years.
Stan remarked about the severe "tunnel vision" with his, but it was a zoom model if I recall?
Why would I pursue such an "awkward" and questionable instrument?
Much of my observation these days is long range terrestrial.
I'm getting older and less inspired (lazy) to lug around the venerable giant binoculars and heavy tripod.
The State of Michigan is beautiful with all it's lakes and hundreds of miles of inland sea shores.
The magnificent Straits of Mackinaw must be experienced to be appreciated.
I often desire the convenience of just "grab and go".
I was blessed to acquire a SELSI 30X70 that works, and works well. At least within it's design limitations.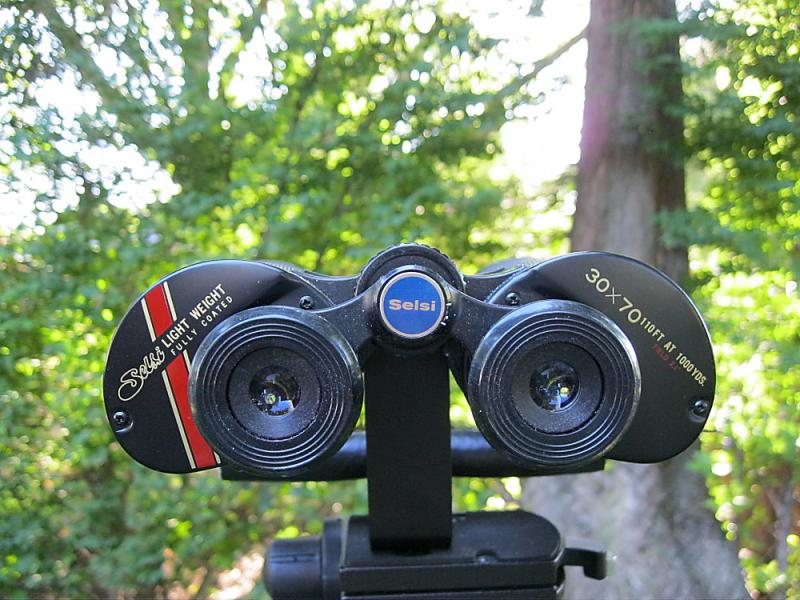 I wanted something with a little extra magnification "punch". Just a little more than the 25X100.
I have a wonderful 66mm ED refractor, but then there's the accessories and cases, you're back to one eye, and most of the time the ground level atmosphere does not allow for magnification over 30X. Just too "murky".
Magnifications of 40X-60X may work at scales of hundreds of yards, but not over MILES of open water or terrain.
I estimate this vintage SELSI to be 40-45 years old.
I had previous communication with the seller who assured me that it was in good order.
The binocular came from the estate of a retired pilot.
There was basically no signs of this having ever been used.
The coatings are a blueish magenta.
I took opportunities to point this binocular Heavenward.
The Moon; surprisingly crisp detail with just a touch of "greenish" chromatic aberration. Nice image. Hey, if I want to explore lunar craters I've got a great 150mm Maksutov for that!
Jupiter; moons very apparent, just a trace of the banding.
Saturn; ring forms very obvious, couldn't quite make a separation with planet. (Wasn't really expecting to).
Mars; strong spiking around Mars for some reason.
Venus; clearly showed as a crescent, nothing more.
Stars; well, a little dim as expected, sharp in the center but a coma kaleidoscope at the outer 3rd.
This is essentially a day time binocular for me.
If I had to wear my glasses while observing, this binocular would not work for me at all due to exit pupil and eye relief.
Would I have a slightly better image with the 25X100? Quite so.
But then I'm struggling with a massive 25lb. binocular and mount again.
I offer a comparison photo of the instruments themselves.
I was able to study a Wasp (yes, an insect, not the other acronym) dallying around the neighbor's hedges about 450 feet away.
I could read the manufacturer's names on contractor's tools about 200 yards away.
The views are more telescope than binocular with a 2* field. But you are right there. Not much of a "tunnel".
I have an ORION LITTLE GIANT II 11X70 that I purchased new years ago. It is in mint new condition. Very sharp images.
The field is 4.5* and it does suffer horribly from tunnel vision in my opinion.
I chose to mount the SELSI 30X70 on a Manfrotto 3021B tripod. ( I think it's now the 055B). This has always been one of my favorite light-midweight tripods.
The binocular itself rests on an excellent Manfrotto 3275 geared head. Very stable and not very heavy.
As seen in the photos, there may be someone who wonders what the strange "contraption" is under the binocular barrels.
THAT is a home made stabilizer. Now the binocular is supported at two points. Everything helps at 30X in such a light binocular.
No, it does not interfere with the IPD setting. You just turn the wing nut on the bottom until the arms "rest" under the barrels.
All it needs is contact.
Note- I originally constructed the stabilizer for about 2 dollars worth of hardware store parts to settle the barrel "wobble" on my Oberwerk 20X80 LW's. Most of the traditional "L" brackets are tapped with two 1/4-20 holes. A proper sized machine screw fits right in.
The 20X80 LW's have good optics, almost no eye relief, and great coatings. They also lack a center shaft and any vibration or gentle breeze would cause those long unsupported barrels to send highly annoying "jitters" into the image.
My Oberwerks were puchased very soon after their introduction. Maybe current production has seen better rigidity in the barrels.
30X70 vs 25X100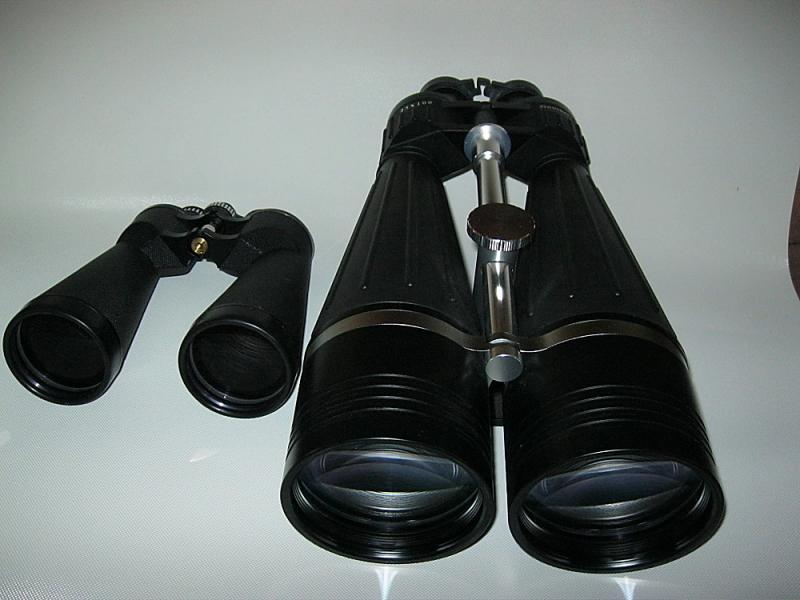 So, I dearly hope to be returning to Mackinaw in a couple of weeks where I can better determine if the mission assigned to the SELSI 30X70 will be fulfilled to satisfaction. The straits and channels between Lake Michigan and Lake Huron are a nautical highway for shipping traffic.
The 30X70's, bracket, stabilizer, and mounting shoe together slip right into a small, padded, fabric cooler.
With the lighter tripod (opposed to a 028B), it should just be "zip, snap, and click" and you're viewing.
I am accepting this as a special purpose binocular.
I hope it does what I want it to do.
If I emerge "victorious", I hope Mike G. will take some vicarious satisfaction in the success.
I'll let you know what I experience.
Regards,
Eric