G'day all,
Last night I was trying to get some detail on the GRS - Oval BA close encounter which culminates this week. I was about to wrap up the session when the novel white spot in the Northern Tropical Zone appeared on the LiveView screen. So I continued to capture for another hour and a half (going through one camera battery and half of another), for a total of 37 × 200 second captures:
These made for a nice animation; the seeing was good enough for a full-scale animated PNG:
Preview GIF @ 33%: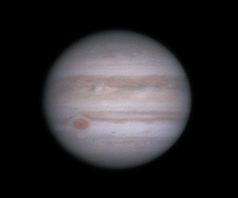 Capture details / Animated PNG @ 100%
Enjoy!
Cheers,
BQ
Edited by BQ Octantis, 25 August 2020 - 12:53 AM.