Wow getting a bit snippy in here!
So here is my take. I'm 52, so a late starter in the hobby.
I always wanted to get into telescopes and astro photography. I have show dogs as a hobby so I bought a Nikon D810 and 70-200mm 2.8 lens, both used, to take ringside photos of my dogs.
In September of last year I was just surfing the internet and saw telescope ads. Thought "I have the camera just attach a scope!" Bought a used Orion EON 115mm Triplet used from a
retailer. Picked up a used field flattener, hooked everything up and put it on a NICE carbon fiber photography tripod. Discovered it was not vibration stable and could only get 2 second
shots without tracking. Having good luck buying used, I picked up a like new CGEM II.
Managed to catch on to everything pretty quickly and managed this: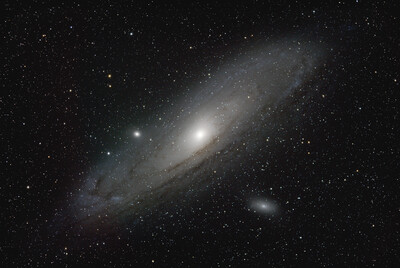 Noticed my new "Used" CGEM II could track better. I was getting RMS above the needed pixel scale. So I sent her out to get hypertuned. That really didn't help at all, actually made it
worse. This was after I upgraded to a QHY247C and better guiding scope. Everything used again to save money.
Now I have a brand NEW Losmandy G11 on order.
If I added the money spent on that CGEM II, all together, I have more then half the money needed for a well decked out Losmandy G11.
Lesson learned! The hard way!
I follow the classified ads and noticed how many very new Ioptrons going up for sale, that sets off red flags to me.
Premium mounts for sale seem to be older ones still going strong being upgraded for bigger scopes.
For me, a Losmandy is a Premium mount. I can't justify spending more then $5000 on just the mount. I have to carry it to darksites.
I like the idea of being able to buy American.
Probably could cut back on things and get a Mach-2, but unless I get full frame OSC and bigger scope I don't see the need.
And at my age, I don't want to waste a year of my life waiting for a mount.
More power to the people that can get a 10-20000 mount and not notice it in the bank account. I'll be happy with what I have and just need.
David Malanick