I ordered a Pegasus Falcon Rotator and TCF-Leo Focuser, thinking that they would fit over each other. Unfortunately they don't. The motor cover of the falcon rotator bumps up against the sides of the TCF-Leo, no matter which way you turn the TCF. You'd think they'd fit looking at it, but they just don't. Short by maybe 5mm.
i.e.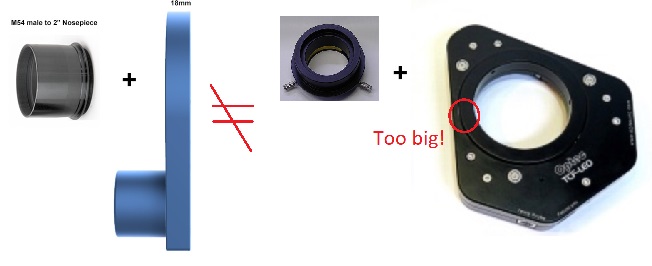 So, what to do… What to do...
Well, throw out the motor cover of the Falcon Rotator of course, and give it a different cover with a "notch" instead:
Now it fits nicely. You can see based on this picture where the stock motor cover would bump up against the TCF-Leo: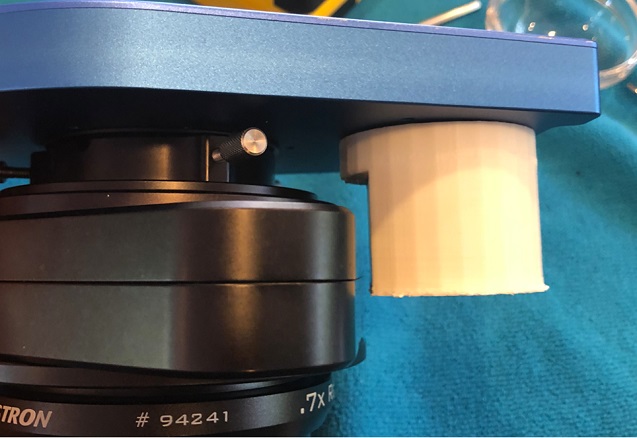 Curious minds may wonder why do this...
Well, glad you asked! The combined backfocus of the:

a) The Optec 17803 Celestron C11/C14 adapter (7mm negative backfocus)
b) Optec TCF-Leo set to its middle position (56000 of 112000)
c) The Optec 17804 Optec 3000 to 2" ring
d) The (modified) Falcon Rotator
is 64.75mm. In comparison, a moonlite litecrawler is 74.3mm set to an equivalent out-travel (4.45mm). That makes this combo over 10mm thinner. It's also marginally cheaper, and more readily available - I received both parts with overnight shipping (Optec directly + HighPoint). Finally, you have 2 separate parts that you can split across 2 scopes if you want.
Full setup: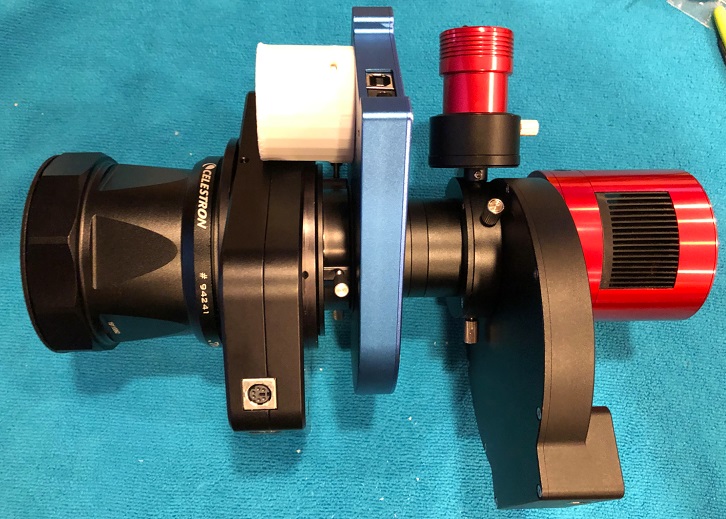 The image train above is somewhere between 145mm and 146mm after the Celestron 0.7x reducer (which I just use to show here as a spacer since the back of that reducer is equivalent to the back of the SCT). It includes 36mm of spacers. 31mm between falcon rotator and OAG, and 5mm between EFW and camera. This should hopefully mean a Celestron OAG would also fit instead of a ZWO OAG.

There is some additional space available between the TCF-Leo and the Rotator that can be claimed if you do a Precise Parts custom "Optec 3000 deep receiver" to "Falcon Rotator (54mm)" adapter.

Overall, it's a very simple modification. Remove the marked screws, remove the rotator plate (to get to a screw under it), and finally slip the motor cover out from the back.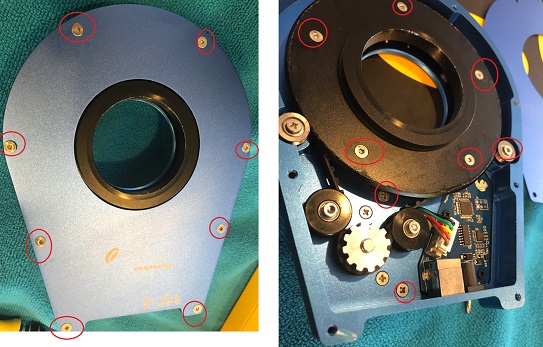 3d printed design on:
https://www.thingive...m/thing:4580838

One caveat – my top-most screw in the design doesn't line up with the hole in the rotator. For now I've put in only the bottom screw, which holds it in place. I'll redo it later.

Feel free to take/copy/modify my design for any purpose, including commercial. Hint hint @PegasusAstro... if you ever feel like making a metal version of this, put me on the list

.
Edited by deonb, 26 August 2020 - 10:40 PM.