A few months ago a Tele Vue Renaissance refractor was offered for sale by a fellow Canadian. One could tell from the photos that the brass tube had acquired some nice-looking patina. I recently became enamored with brass, I had acquired and started dissecting, documenting and restoring an antique Cooke refractor. Seeing the add I pondered the notion of modern brass. The current owner mentioned that the finish on the brass tube was not quite ideal, the original owner had tried to polish it and left some residue on the OTA. We made a deal and I had the scope shipped across the country.
The Renaissance brings back memories of very early 1980's Stellafane. I had some one-on-one observing time with Al Nagler and his MPT and prototype Nagler eyepieces. The wide-rich-field views of the Milky Way were amazing compared the "peep hole" eyepieces I was used to. I have always been impressed with Tele Vue's ground breaking and high-quality products, so it's a treat to finally acquire a Tele Vue instrument of that heritage to use with the dozen or more Tele Vue eyepieces I have accumulated over my four and half decades doing astronomy.
Here is the Renaissance mounted on a Losmandy 200 for testing.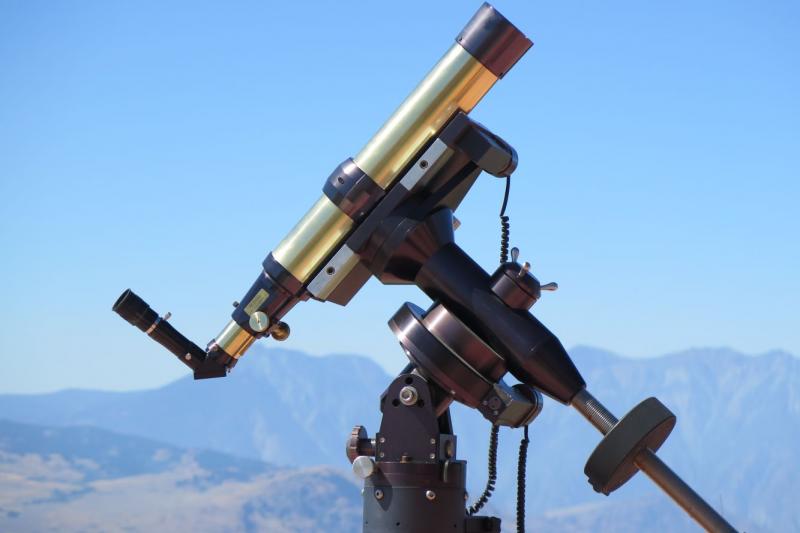 As soon as I could, I spent some time with the telescope under the stars on nights of good seeing. Although the collimation was a bit off, I was impressed with the image quality, a clean Airy disc and diffraction rings at 344x. That high power is achieved with a 8mm Radian and 5x Powermate. What struck me the most was the color correction; it was much better than I was expecting. I must admit I am not a refractor aficionado, with talk of the number of crossings etc, but I don't see much difference in the Renaissance's faint blue halo when compared to my Stellarvue 110mm f/7 ED's faint blue halo. There is perhaps a bit more spurious red in the Renaissance image. David Nagler says that the 4" f/5.5 Renaissance has the color correction of a 4" f/8 achromat.
David tells me that the Tele Vue Renaissance #1778 was born April 12, 1993 and was the 5th from the last one made. Upon opening the case I saw that the black anodized cell and end ring had faded from exposure to the sun. The brass patina was blotchier than expected and the polish residue was a lot more obvious than I would like in instrument that I would want to display as much as use. Some might be annoyed - I saw an opportunity - let's rip the scope apart and see what's inside while we clean it up!