I got some first results with my new Skywatcher Esprit 80 ED last night, in spite of the full moon. I imaged the area around the North America Nebula and the Pelican Nebula. Imaging train was: Esprit 80ED - SW Flattener - ZWO OAG - ZWO EFW using Optolong L-eNhance - ASI 071 MC Pro. Backfocus is correct to within 0.5 mm, after adding 1 mm for the filter.
Although the dimmer stars are sharp, the brighter stars show obvious green halos that are displaced to the left side. Some of the brighter reddish stars show reddish halos displaced to the right side. This suggests something is not well aligned. I suppose it could be in the imaging train, e.g,. the filter wheel, but I haven't had such issues with my other OTAs (SW Esprit 120, 8" LX90) using the same imaging train. I don't see any way to perform collimation adjustment on the scope itself.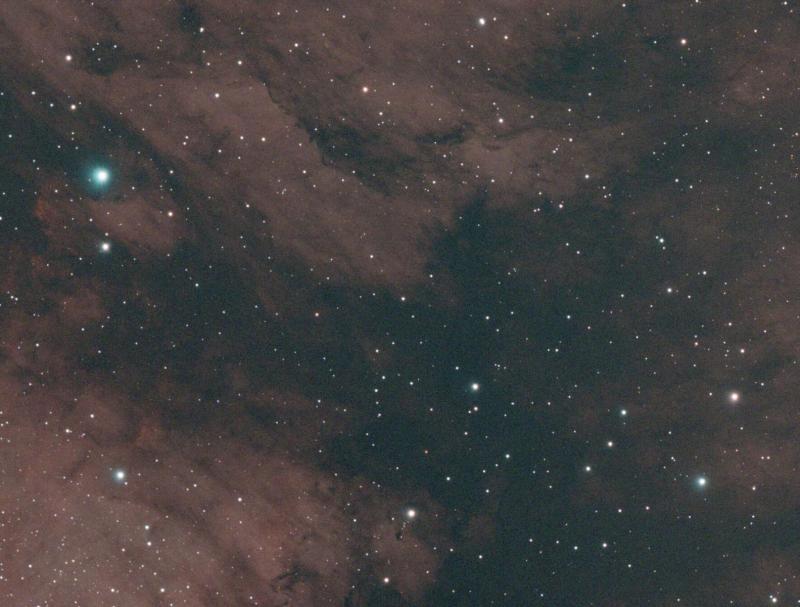 (This image was processed using the Weighted Batch Preprocessing script in PixInsight, then cropped and stretched. Total exposure was 72 minutes.)
I'm planning to try some imaging without any filters, next time I get clear skies, just to check the scope. Meanwhile, I'm looking for comments and advice.
Thanks in advance!
--Michael
Edited by mborland, 05 September 2020 - 01:53 PM.