Pete
Just take a look and buy 4 of the 'rebar chairs'. they're less than $1 each and wire. If you've doing vertical rebar with horizontal 'circles' or 'x' ensure that vertical rebar don't extend more than necessary (1"') to wire-tie with horizontal members on end that's going into ground. Then wire tie several of the 'rebar chairs' under horizontal pieces of the base (so it's lifted a few inches up). Then cement is definitely 'encasing' underneath rebar. As others said don't drive the rebar into the ground. I dropped rebar cage into ground (rebar chair end) and poured a foot or so. I 'sticked' the cement and tapped the rebar with hammer to eliminate bubbles at that point to ensure base was fully encased (knew rebar was up 3" due to use of rebar chairs). Then continued with pour for another foot (repeated 'sticking' and tapping rebar), and repeated until reached top. Pic below of my rebar cage when sitting 'upside down' in homemade jig. In that position the vertical rebar are extending a bit more than they were when went in hole. You can barely see the thinner gauge wire (rebar chair assembly) going along the visible 'top'. Sorry for poor photo from our security camera. Didn't shoot any pics from my iPhone.
I was using 4' verticals and bending pairs of 2' for 'circles' with 1' and 2' used as needed for 'x' midpoint to edge or edge to edge. My finished depth was 42-43 inches (frost line is 30") and 18x22 wide. Had to bend over the 4' at ends on top which provided a hook for my L-bolts when template was set. I knew that bolts were in concrete but also had position under 1/2" rebar.

Dave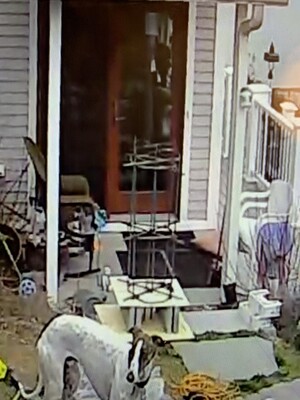 Edited by Travellingbears, 26 September 2020 - 03:23 PM.