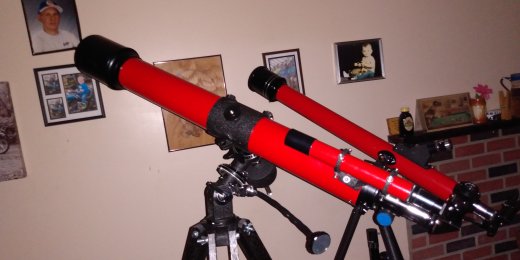 I can't help to have the impression that many nowadays refractors have a somewhat fancy, sometimes even trendy, but mostly more-than-simple look. But I like the old plain-simple style, best represented by old white Vixen refractors with the green-gray focusers and mounts etc. which look spartan, unsophisticated, and unagitated. Not like some glittering or flashy red or blue scopes in some production lines nowadays.

Maybe you know what I mean.

Unfortunately, I only know some refractors and brands of that time and only from images.

This is the chance to present us your un-sophisticated 1980 to mid1990 or pre-1999 refractors.

Now I am excited.
I like red, and mine are about as unsophisticated as it gets.