Inevitably any explanation of the "((o)) rings" effect will be quite technical but I'll do my best to make it understandable. The formula giving the intensity of Airy rings for centrally obstructed optics can be found in the "Obscured Airy Pattern" section of the Wiki Airy Disk article. It uses a first order Bessel function of the first kind, which is the function BesselJ in Microsoft Excel. Anyone, including me, can plot it! So here is a plot of a slice through the circular Airy pattern of a star with no central obstruction (CO) and a star with a 55% CO (e.g. the RH200 telescope):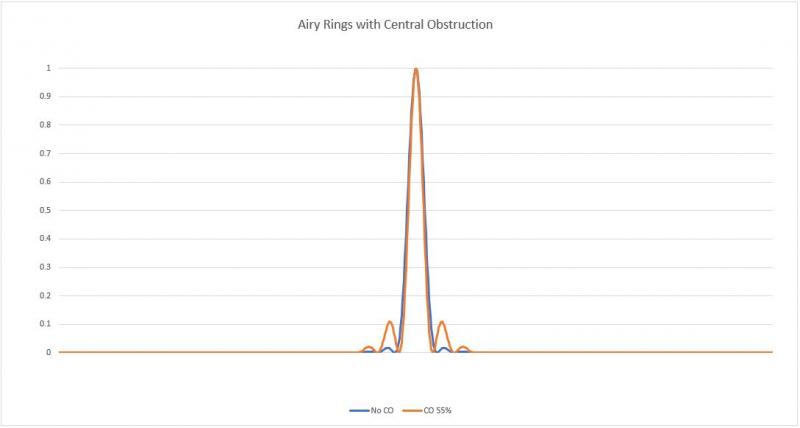 The effect of the CO is to narrow the width of the central peak and to throw more energy into the 1st and 2nd rings. Everyone is already familiar with this. But the amplitude of successive rings dies down quite quickly which means that few people are familiar with what happens in those outer rings. So here's a plot where I have applied a scaling function to the rings, to make the effect visible: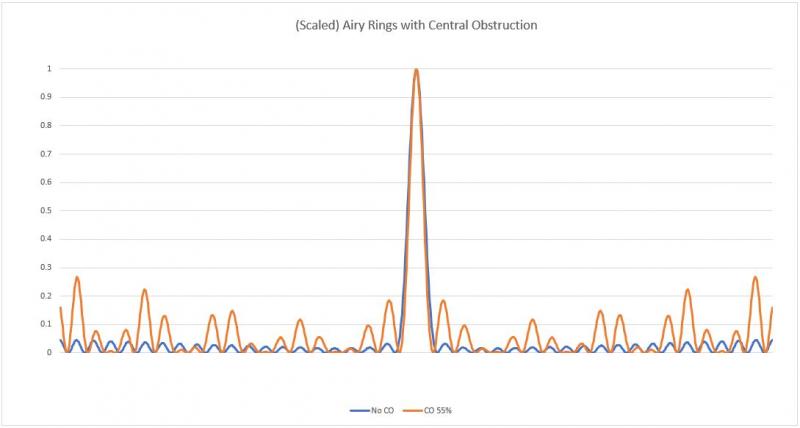 There is an obvious periodic modulation to the amplitude of the CO rings, with a maximum approximately every 4.5 rings.
We are now in a position to relate this pattern to the example image from AtmosFearIC (a few posts ago), which I've copied here for convenience: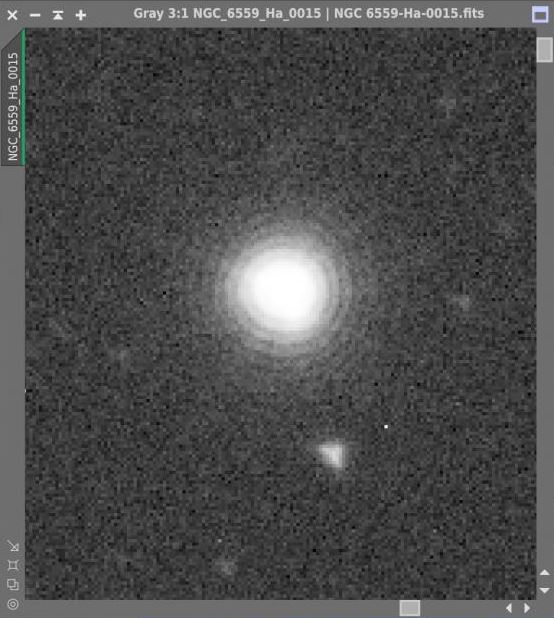 This example used the QHY183 camera on the RH200 with f-ratio f/3. Using the well known formula for unobstructed optics, the radius of the first zero in the Airy pattern is:
radius = 1.22 x wavelength x focal_ratio
This gives 2.4 microns for the H-alpha wavelength (656nm) and f/3 optics. The spacing of successive rings is slightly less than this. But the pixel pitch of the QHY183 camera is also approx 2.4 microns so the rings of unobstructed f/3 optics are too closely spaced to be resolved by the camera.
However my plot above shows that there is an amplitude modulation that occurs in the case of a 55% CO (like the RH200) with a cycle of approx 4.5 rings. This is easily sampled by the camera and my conjecture is that this is exactly what we are seeing in the above image.
Mark