So last night because of the smoke from all the fires, I was just going to experiment with some oddities I've been having with the HEQ5 mount (sometimes pointing west and down for Andromeda, or North East and down for Jupiter, and sometimes not). But it got so clear that I couldn't let the night go to waste without capturing something, so after 10 o'clock, I got the dumbbell nebula framed up and starting seeing how long of an unguided exposure I could get (only 90-100 seconds

).
Because I got such a late start and the camera was getting real close to the tripod leg, I had to flip to the other side to continue. After manually getting the target centered up in the frame again as best I could, I took another 20 minutes of frames and called it a night about midnight.
When I ran everything through Starry Sky Stacker, it rejected everything after the flip as "Unable to align...". Anyone with any experience with Starry Sky Stacker have any advice on how to get it to accept frames after the orientation changes 180º, and probably isn't framed exactly the same?
What I did manage to get: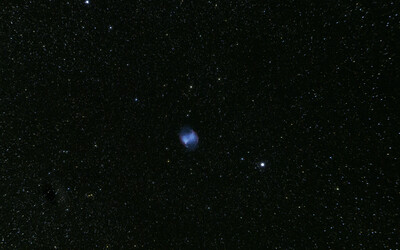 29 X 90" ISO 1600 10 darks plus flat.
WO Z73, unguided.
Pentax K3
Starry Sky Stacker, processed in GIMP
(Criticisms welcome, I'm still learning)