I purchased my first telescope, a Meade DS2130 5" GoTo reflector, in September 2009 for $80 off of CraigsList in Austin, Texas.
I remember being out at a dark location one summer night at my dark sky location,Lago Vista, TX, in 2011 and looking at Jupiter. It was a very clear night in Central Texas with excellent seeing and I was using my Celestron 8NGT Newtonian telescope (also purchased on CL!). On that night I could only see three of the Galilean moons. I kept asking myself over and over, "Where is the 4th moon?" Then about 30 minutes later I noticed a small white pimple on the right side of Jupiter. As I watched in awe, I could see in real time as the pimple grew and then completely separated from Jupiter as the 4th moon.
And I distinctly remember thinking to myself, "This must have been the same awe Galileo felt when he first observed this same thing for the first time!" That's when it sunk in to him that the small "stars" were revolving around Jupiter. I still feel that same awe every time I witness a Galilean moon move out from the front or back side the beautiful gas giant planet!
This sketch is based on the transit of Ganymede on the early morning of July 10, 2020. Ganymede is that pimple popping up on the right side of Jupiter. I used midnight blue card stock paper instead of the black sketch pad paper. The sketch was scanned on an HP printer and saved as a jpg image. I did minor corrections to contrast and temperature to correct for the HP scan differences to the original sketch.
Regards, Ed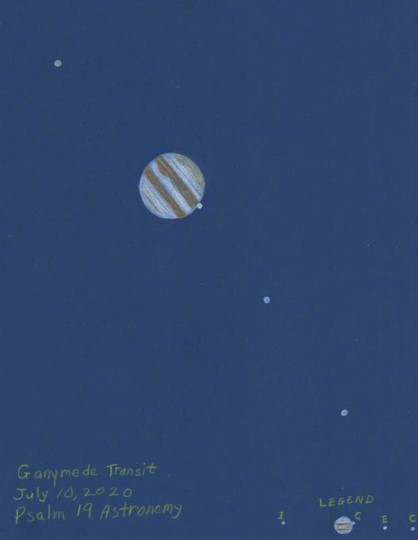 Edited by E-Ray, 18 September 2020 - 08:45 AM.