I wasn't expecting any new Mars images until the wildfire smoke cleared, so I consider these images to be a real bonus. I had seen Mars around 10 pm, so I knew the smoke had thinned somewhat compared with the last few days, but when I got up at 3 am, the planet was obscured by clouds. I re-set my alarm for 4 am, snoozed a little, and then got up to find a "clear" sky of orange haze, but no obvious clouds. No stars either - forget about trying to check collimation. The smoke seemed to increase contrast and made it easier than usual to observe Mars in the eyepiece. Seeing was very steady and I was able to use Sinus Gomer for focus, but I had to quadruple exposure time and increase gain to even get close to my usual histogram, meaning far fewer frames than usual. I'm quite happy with the results, though. They may be constrasty and the colour might be a little off - processing smoke-affected images to resemble my usual images is quite challenging - but they're images I didn't think I'd get at all, and may well end up as my best view of this face of Mars.
September 17, 11:24 UT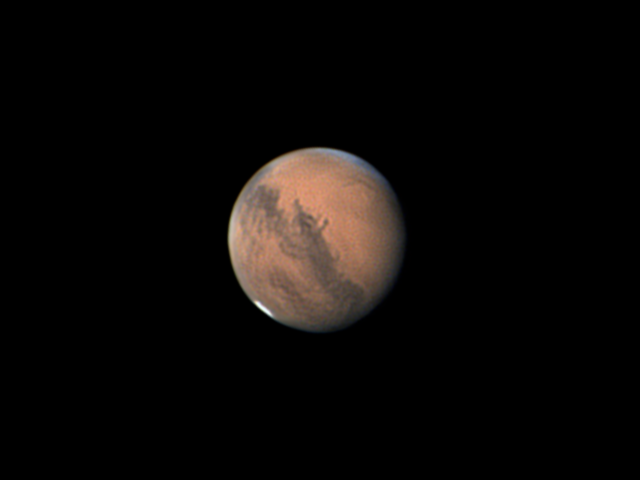 September 17, 11:48 UT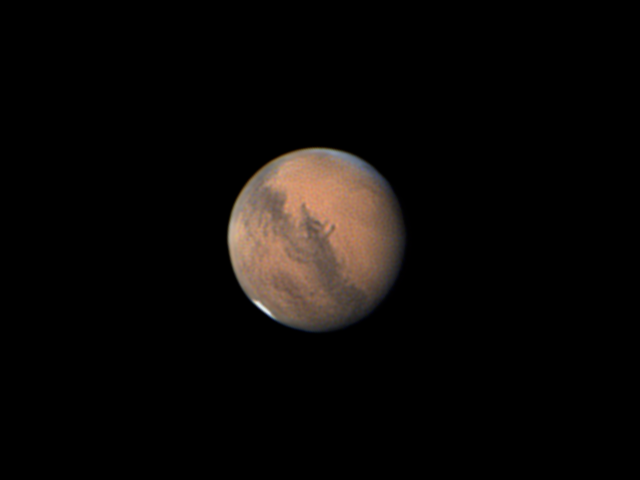 Nexstar Evolution 9.25 with 2x Barlow and ADC. ZWO ASI224MC camera.