Hi there,
I had a Starizona Filter Drawer lying around and just saw they sell an adapter for the RedCat51. So, normally the backfocus from the backplate of a WO-scope (or DSLR-adapter) to the image plane is 54.80 mm.
This led me to the following setup: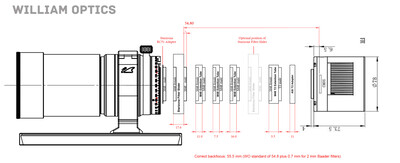 I added 0.7 mm of backfocus to adjust to 2mm glass of filters in the optical train. Additionally, I am able to move the Starizona Filter Slider closer to the ASI-camera.
What would you suggest in regard to the position of the drawer? Might the position closer to the cam reduce the risk of coma?
Regards and thanks,
Sven