This is an image from last night of the North American nebula plus the Pelican nebula.
Photographed with a unmodified Canon 7D and a Samyang 135mm F2.0.
It is a stack of 57 frames exposed for 120 seconds/ISO1000 using a Sky-Watcher Star Aventurer Pro.
It was stacked and stretched in Astro Pixel Processor and then edited in Photoshop and StarNet++. (Mainly combining a starless version with the original to dull the luminosity of the stars a bit as I thought the stars was a bit bright).
I only boosted the color saturation a bit in APP so this color is what the camera captured. Since it is pink it seems to be hydrogen. Not sure about the blue color. But overall colors seems to match with Figure 3 at https://clarkvision....erstellar.dust/
It is my first attempt at photographing a nebula as I only started with this hobby last week.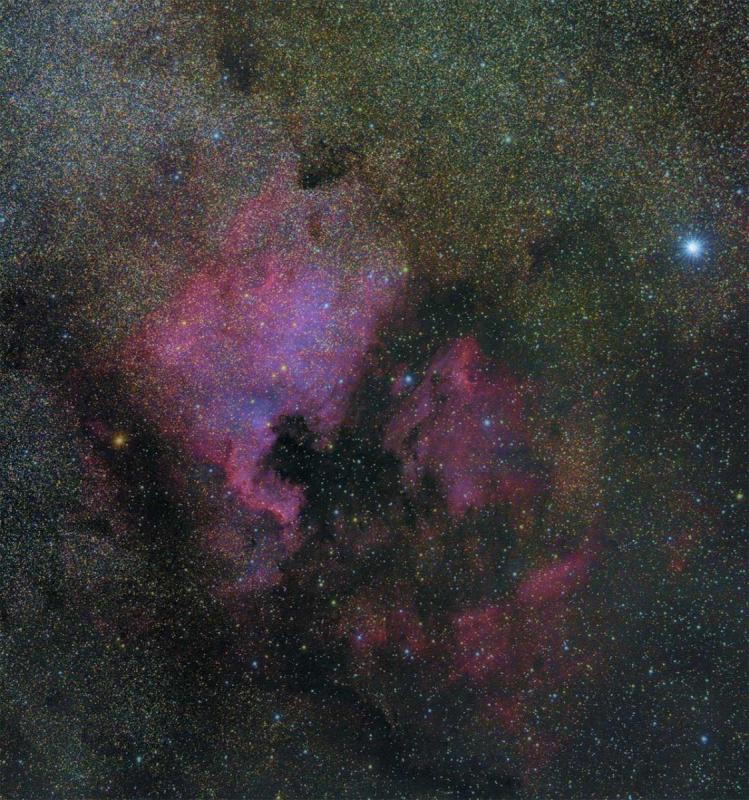 Larger version is here.
Edited by jorgenp, 19 September 2020 - 01:00 PM.