Friday night I was able to head south by about an hour and set up in the middle of a corn field outside of Rochester, MN, This was the first time I was able to get to a darker site, and was certainly much darker than what I normally get from my backyard in suburban Twin Cities. It was also the first time I was able to really test out my newly completed rig, so one could consider this first light, if you ignore the terrible previous night's attempt.
I ran a sequence in N.I.N.A. for 100x300s lights through an Astronomik L2 UV/IR cut filter at -10C. I had a little trouble nailing the focus since I seem to have lost my bahtinov mask, but managed to get it close enough. N.I.N.A.'s optimal exposure calc told me to shoot for 432 seconds, but I thought that was a tad optimistic, and to be honest I don't have that much faith in my mount just yet. The next morning, I ran 128 flat frames, because I had time, so why not. I've previously shot and stacked master biases and darks at the same gain and temp, so I reused those.
All in all I had a successful night. The skies were very clear all night long, and we didn't have much of any haze or smoke like we have been recently (yes, we've been getting smoke from the PNW all the way in MN). I was able to sit down and process my data. After running through Siril, ASTAP, Nebulosity 4, and DSS (which kept crashing), I settled on my second run of ASTAP and ended up with this as the result. I'm happy with what I have, though I think I can eek out a bit more detail with time and experience.
Click on the photo for a link to AstroBin.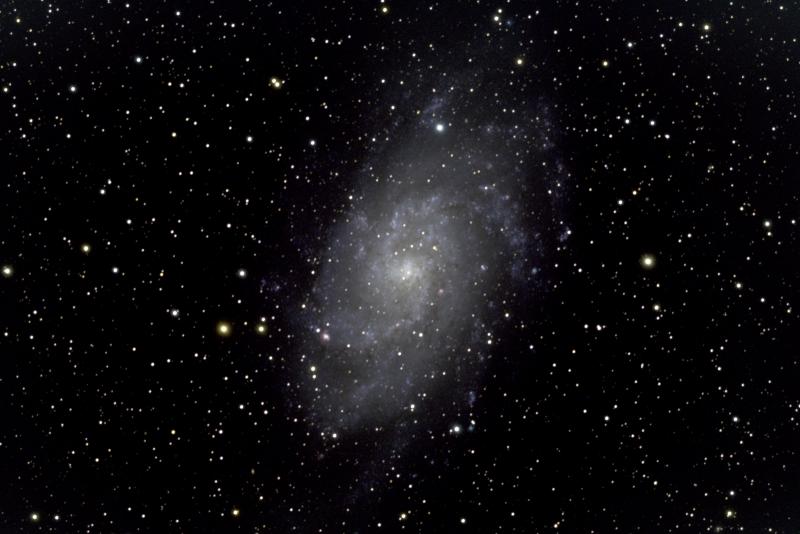 Gear List:
iOptron CEM25P
Astro-Tech AT72EDII
ZWO ASI183MC Pro
QHY miniGuideScope and QHY5III-224MC
Starfield Optics 1.0x Field Flattener
Dew heaters for both scopes
Acquisition Details:
Lights: 100x 300s @ 50 gain, 10 offset, -10C temp
Flats: 128x 0.025s @ 50 gain, 10 offset, -10C temp
Biases: master @ 50 gain, 10 offset, -10C temp
Darks: master @ 50 gain, 10 offset, -10C temp
Stacking and Processing:
Stacking in ASTAP

Analyze and uncheck worst 2 stdev

Ended up with 62 keepers out of 100. I had an issue with reentering after the meridian flip, so that is probably where the bulk of the lost ones went

2x2 mean master flat
Sigma clip average
Bayer-Simple de-bayer method (AstroC resulted in weird colors)

Processing in Photoshop

Adjusted output level maximum down to 174
Set black point on background
Reduced exposure by -0.56, offset by -0.0004, applied gamma correction of 0.98
Hue +15, saturation +20
Adjust RGB curves
Export to PNG