After a lot of deliberation and a last minute change of heart, I finally decided on the Skywatcher 10" Flextube.
I had been leaning heavily to the Apertura for a variety of reasons but one of the big ones was that I liked the way the Astro Devices encoder kit worked. With this particular design, a magnetic emitter strip was attached to a disk on one of the altitude bearings but the encoder itself stayed on the base, and to move the scope, you simply lifted it out and set it in exactly the same way you would without the encoder.
A negative of the Skywatcher is that one of the knobs was replaces by a bolt, then the bracket with the encoder was hung over this. This meant that to move the scope (in two pieces) one had to remove the encoder bracket and nut to be able to get the truss out of the cradle.
I still went with the Flextube because of the ability to shorten the trusses so that I could reach focus with my reducer but I was concerned about the lack of an acceptable encoder kit.
I had come up with my own design to circumvent this and had sent a note to Astro Devices about the practicality of it.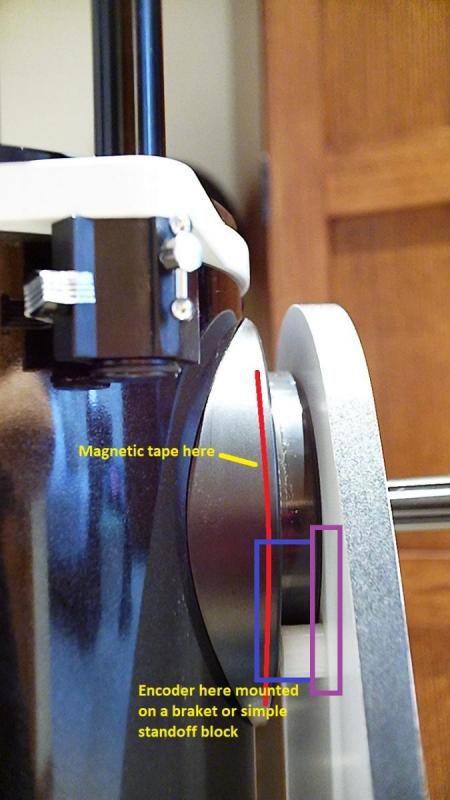 To my surprise and delight, Serge at Astro Devices responded saying that they are actually in the final stages of releasing a new encoder design for this model! It is actually conceptually very similar to what I had proposed to him for a home built solution. This will put the emitter on to the plastic bearing housing as shown in my own design (though it is a different kind of emitter) and place the encoder on to the inside of the cradle so that there is nothing to take off or remove when taking the truss off of the support or putting it back in.
I was told that then new encoder kits should be available in the coming weeks, so if you have an Orion 10" Flextube and want encoders that don't utilize the bolt/bracket design, they hopefully will be available soon.
The Matrix seems to often take care of me often delivering exactly what I need exactly when I need it.. That is so nice.