Hi,
I recently secured some of my best images of Mars in the very early morning of Sept 20. I judged the seeing to be 6/10 and my first image taken at 200920123802 at an elevation of about 38.5 degrees was the best of 8 images taken over the next hour. I am now using a 2x barlow to give a confirmed f/20 which I thinks gives better images with my 2.4 micron pixel camera, better colour and easier processing.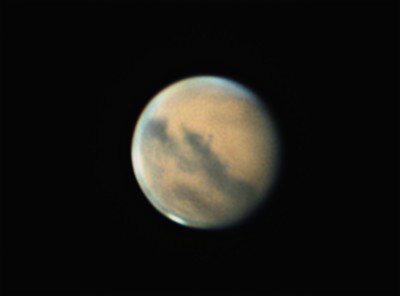 I recently received advice from the forum that the PIPP software could make animated GIFs so I took all 8 images and made an animated GIF posted below. The last image is timed at 200920132826. The interval is about 50 minutes.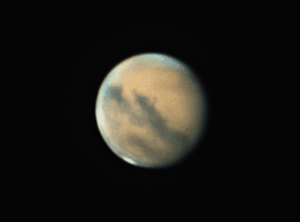 You can see Syrtis Major is coming into view over the left hand limb and the seeing is deteriorating. When I got up around 8am, a wind was blowing and weather was moving in. It is typical here that the seeing deteriorates as winds to the lee of the ranges strengthen from the westerly quarter.
Some time ago I posted an animated GIF of a Ganymede transit. The processing was a bit rough then and I recently reprocessed them and made an animated GIF of this event. The file was a liitle too big for this post so it follows below.
Cheers Paul
Edited by Kiwi Paul, 23 September 2020 - 04:44 AM.