Sept. 17 brought one of those magic steady nights.......already posted the Jupiter views; and sadly climbing ground mist prevented a hoped-for follow-up with Saturn.
After that I was relieved the mist reached no higher, and that later arriving Mars would be ok. Uranus too was unaffected; playing safe took on that before Mars. Banding was beyond doubt and came to sense a brightness in the NTrop/Temp region and was followed long enough to judge its leading side nearing the CM (sketch)......
Then went to Mars.......WOW!!!.......still with 635x and felt no need to go lower and simply stood there a bit overwhelmed initially at the thought of the coming sketching effort. As it was the seeing was so obliging that the detail presented could be sketched at leisure. Reminding me of another night with Mars back in 2007 December – still perhaps my best of all Mars session (Syrtis Major then).
The Sept. 17 view night-ambience: the wildlife callings had me immersed in the 'zone' of many such nights.....Mr & Mrs Tawny Owl's exchanges with a Little Owl; then the calling foxes (riling the farm dogs for miles it seemed) along with our local all-night singing Robin.
Back to Uranus, reluctantly leaving Mars, to find that light spot confirmingly past the CM (sketch)........
Sept. 21/22 Saturn: doing my routine intensity estimates (19:30 UTC) the seeing was Antoniadi III at best and did not mind me to sketch it. It soon approaching the houses faded any hope of a better view. Went in for a quick meal and coming back out caught sight of Arcturus looking unusually steady......rare when going down in the west. Back at the scope swept to Saturn and WOW!!....the lost view of Sept. 17 was back it seemed (sketch).
One of those subtle EZ(N) oval brightenings was soon caught well near the CM. Also could plainly see the Ring shadow on the globe starting to show through Ring C where it crosses the Globe (Cm – not to be confused with CM).
Keeping fingers crossed for Mars and it too was superb, but worryingly with some fitful scrambling turbulence; so the sketch was more laboured than Sept. 17. Even so along with the striking bluish white NPH there was some nice localized hues caught. In particular after recent dullness it was pleasing to see Chryse coming into view showing a lightness of somewhat misted flesh tones.
Interestingly the bright yellowness over the mid-limb regions seems all but diminished and given way to the bluish haze there. In addition on a few nights late August on there has seemed an intensification of that hazy centred near +40º latitude regardless of which longitude/region was at the limb.
Finalizing the sketch with plan to go to Uranus that turbulence returned and continued such that I had to close down and get to bed for a busy day the morrow.........seems the lack of wildlife chorus that night told they knew something I did not..........Dave. (Edit: some data corrected)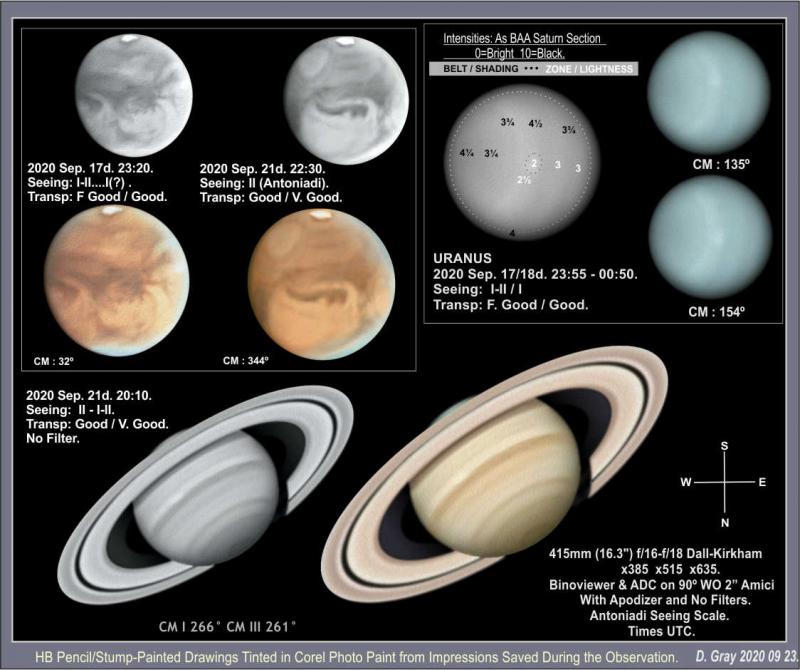 Edited by David Gray, 23 September 2020 - 12:28 PM.