Greetings!
Some of you may know me from my posts on here. A large majority more of you may know me personally from dealing with me via classifieds.

A self-confessed equipment junkie, I like to try various gear. It has been a part of the joy of the hobby for me. Unfortunately it is also very expensive over time, so I have made efforts to try and optimize various set ups for my observing habits with my observing conditions. A tall order, I know.
I have broken down my observing to two basic outcomes: poor to bad seeing, and average + seeing.
One astro tool is not able to do it all, you need something for both circumstances. Why I rate observing based on seeing, is because if the transparency is poor to bad, I usually wont go out. Everything is like looking through dewed over lens or something. You can get lucky and do suckerhole observing with small apertures or binos, but I typically dont go out.
In poor to bad seeing, large apertures suffer. Also smaller instruments can do okay, but usually low to medium power.
So one instrument that does low to medium power well (that is smaller aperture sub-100mm) covers observing conditions 1, and whenever there is average seeing and average transparency then the larger optic comes out to play.
Enter my current set up: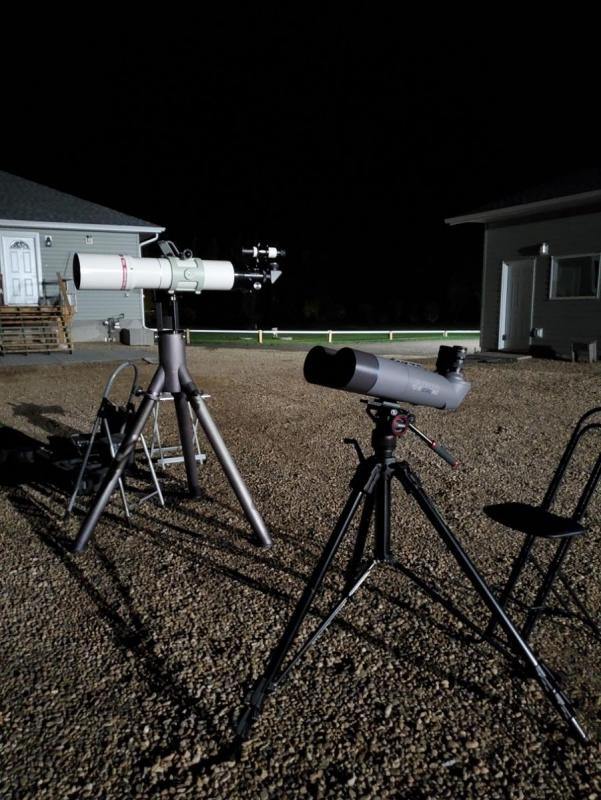 It is not my final set up, but on face value it appears to cover the observing conditions very well. The APM100 ED APO binoscope for the low to medium power DSO observing, or grab and go, ect, and the Takahashi TOA130mm.
What remains to be seen, is if I will need a smaller grab and go refractor doublet (76-100mm) for the moon grab and go. I have yet to test the binoscope on the moon yet- so I will come back to that idea at a later time.
I wanted to use the largest aperture, best possible optics on the DM6 while not sacrificing mount stability. It was imperative to keep the DM6 in the picture because of the fact I don't need counterweights and I can sync with Nexus and encoders to use Skysafari 6 pro to find obscure objects. This is what will keep me interested in the hobby.
While the TSA120 worked well with this, I knew I could go a bit larger. I tried 6" fracs (re: TOA150 and Istar 6" f10) and the hassle factor trying to side mount the scopes on the DM6 was just too sketchy. I decided the 130-140mm class refractor was about my personal limit for this mount. Had I been using an EQ mount, I might have just went with the TOA150 and be done with it. It is much easier dropping a heavy scope slowly into a dovetail saddle with gravity's help, rather than fight gravity mounting it sideways and face height.
To mount this TOA130 scope on the 8" DM6 mount extension, it still requires me to use a small foldable stepstool, now another piece of my required gear to bring out.
That brings me to the specifics of the recent scope I acquired, the TOA130. I put off buying this scope longer than I should have, and I am fortunate to have found a beautiful specimen with a full sized feathertouch focuser. This focuser is a work of art and really elevates the scope to a premium feel and status. Reminds me of the Astrophysics focuser, which I found to be my favorite, until this point.
Regarding usage: with the feathertouch finderbracket, illuminated Tak 8x50 finder, aligning the finder to the scope and the mount is easy and accurate. Using the illuminated eyepiece, I match the two crosshairs up on a bright star, then align the mount with a 2 star alignment.
The TOA is perfectly matched to the DM6 and Losmandy tripod. Once properly balanced and with careful considerations on tripod location set up, I get no vibrations and is super smooth, something I haven't really been able to achieve with any scope prior. The DM6 needs a heavier scope to feel smoother it seems, otherwise it has too much stiction (which is actually a good thing). This previous statement is particularly true with the TSA120 vs the TOA130. But not an iron clad comparison I'm prepared to bet money on, as I had different tripods.
The DM6 mount itself doesn't require to be leveled to be aligned, but side mounting such a heavy scope does cause issues if not perfectly level and balanced. This is probably my most frustrating aspect, trying to pick spot to set up to not cause stiction or trouble panning in azimuth due to not being level.
Now on to the observing:
First light at my yellow zone dark site had poor seeing, but transitioned to average seeing later on. Smoke chart indicated transparency was going to be worse than Clear Sky Chart was saying, about half way between clear and completely hazy. No faint DSO's for me. I just brought out the TOA130.
I ran through the usual popular list of brighter DSO targets and personal favourites. There were tantalizingly good views though, which got me excited for nights to come, like the globs and M27. I was able to pick off M33, so the East area of sky seemed better than the south, as did the zenith. Cooldown that night, at least an hour. But likely a little more, perhaps 1.5 hours.
One of the highlights of the firstlight night had nothing to do with the scope. It was panning around with my phone connected to SS6 and the mount Nexus to find an object I selected via SS6, and then stop to find something interesting along the way & read up on that. I found a carbon star in Cass, and several star clusters like NGC 752 and NGC 6633 open clusters, one in Andromeda and the other in Ophiuchus, as well as 56 Andromeda double star that way, as well as M2 & M72 globular clusters along with the usual greats. Wild duck, M13, M92, Double cluster,Carolina's rose ect Probably missing naming a few more.
Another aspect of the hobby I wanted to dive into more in the future was observing planetary nebula using SS6 to starhop to. You need aperture and focal length for these targets, but being able to find them with the TOA130 was a nice welcomed touch using the SS6/Nexus combo. I found and observed the Blue Snowball that way. Small and blue, non stellar object. Also the Ring nebula.
Surprisingly, the most memorable view of the first light night was Mars! Looked about the same as it did with the TSA102S I observed with recently (now sold

but cools down in 45mins to an hour for med to high power), with continent details apparent. Just larger image scale and impossibly sharp and crisp. Mars perfect orb (re:no scatter or diffuse light around the edges) look to it with this image scale is outstanding. I could see polar ice caps subtly and Mare Erythraeum with the TOA130 and the Noblex 12.5mm eyepiece. That pairing was stunning throughout the night and it occupied a lot of time in the focuser.
Still, at the end of the night, with just Mars being something that stuck out, I was intrigued but wasnt sold on the TOA130.
The second light observing night:
Last night I had average to above average seeing, and average transparency so I headed to my yellowzone dark site.
Here I skipped aligning the Nexus and set up both the binoscope and the TOA130. I had a bit of fun checking out many targets with the APM while the TOA cooled down.
With no smoke, the DSO targets were not hindered like they were on first light.
I will skip mentioning the targets with the APM's, but it took 30mins to set up both telescopes and tripods, beginning observing at 23:30. I had the scopes out cooling that whole time, beginning at 23:00.
I didnt even try to start observing with the TOA until 00:45 as I was having fun cruising around with the binos. Here, the views were outstanding with the binos and it was very comfortable viewing.
As I looked through the TOA, I was STILL get the odd heat spike flare it seemed from the brightest stars in the FOV, and uneven stiction in azimuth because of setting up on not level ground was deterring me from using the TOA and went back to the APM's for a bit.
With the TOA, M13 was the first target, not too bad. I needed an eyepiece in the 6-8mm range for this one (which is on route to me) so high power looked best with the Noblex 12.5mm @ 80x. Nice pinpricks inside just slowly being visible, as was M92.
But when I pointed it at the Veil nebula with the 55 plossl, everything changed. A beautiful sight of impossibly small sea of stars and faint shape of the nebula. I was close to the zenith so the transparency seemed better here than lower by Hercules. I put on the OIII filter and the nebula jumped out. I could see the Eastern and Western sides very well, and could make out the faint irregular shape of Pickerings triangle area.
I put on the APM 30UFF and was blown away while observing the Eastern Veil. It was the best I have ever seen it. It actually started to almost take on the shape you get with astro-photos. The knotty structure was definitely apparent. Western Veil looked very good but not as good as the Eastern (usually the other way around), and the faint area of pickerings triangle had nebulous gas cloud shape but nothing defined along the edges well.
I got excited and observed the Coathanger. Framed perfectly with the 30UFF and those tiny pinpricks of stellar light. I observed Wild Duck. Faint cluster with one bright member in the middle. Could have used a higher power eyepiece again for this one. M27 looking great with and without filtration of the UHC.
I had a look at M45 rising in the East now, and was shocked. I have never seen more nebulosity than I have that night. Reminder, the transparency was not above average or excellent, just average. The views reminded me of my previous best ever view, with the AT92 in minus 19C in excellent transparency but poor/below average seeing with the 31N and 17ES92.
This view with the TOA trumped that. Again, M45 seemed like the astro-photos you see in the imaging forums. I could see the faint reflection nebula basically around all of the brighter sisters easily and throughout the cluster. I could not see this with the APM 100ED APO binos. At least, if I did it didnt jump out at me at all. The view was still beautiful in them, but this was a different level of contrast.
I swept up M33, brighter than I have seen it before, and larger. This view was about the same in the APM binoscope and likely the best I have seen it.
With the APM100 ED APO, M31 and galaxy group (M110 and M32) were easily swept up. I could just faintly see the dust land on the top edge of M31, but I had to convince myself I was seeing it. I wasnt 100% sure if that indeed was it, had to check SS6. I switched to the TOA130, and it was now apparent. Again, outclassed by aperture and optical perfection.
I observed the Double cluster with the TOA130 and was blown away again(sorry for running out of the superlatives). The clusters actually seemed 3D, even more than using two eyes in the binoscope.
I had to observe this for a while to figure out why it seemed that way. The TOA was pulling in such faint stars that the brighter stars seemed closer and the fainter farther. I have seen views of this target likely equally as good (possibly in the 12" dob with 31N or a TS152 acho and 31N in average-to-above-average transparency) but I don't remember noting any impression of it looking 3D. Especially towards the center of both clusters were you get a lot and brighter stars together.
I was just going to start observing Mars, it was 02:00am and it was nice and high, but as I put in the Noblex, I realized it was dewing over by getting that faint haze around the planet and I knew either the objective or the eyepiece had a bit of dew. Still, the planet inside the haze seemed impossibly perfect, like an image. I could see continent details on the surface.
Afraid of the dew, I started packing up. The scope's objective was perfect, just the outer body starting to get a bit wet.
To summarize the night, the magnificent Takahashi Ortho-Apochromatic TOA130 has provided me the best views I have ever had of M31, M33 (tied with the APM), Eastern Veil and Double Cluster. And I have looked through a lot of scopes on a lot of nights.
The TOA130 is exactly what I was looking for and is a keeper. It will not, and cannot be an only scope though. Its cooldown time is a bear, think 1.5hours minimum. I knew that going in so I will plan to observe with something else in the meantime while its cooling, something that is usable right away, low to medium power (like my APM's and/or future doublet).
I will dive into more obscure targets with TOA130 (carbon stars, double stars, planetary nebula, faint galaxies, ect), especially when I get the DM6/Nexus/SS6 combo dialed in accurately.
This scope is proving to be a formidable observing weapon, and it will be cool to see what it can do on DSO's in above average to excellent transparency, or with average to good seeing on the moon.
Thanks for reading this far on my musings on my latest refractor joy. More observing reports to be updated in this thread.
Clear skies!
Edited by Tyson M, 23 September 2020 - 04:46 PM.