G'day all,
I noticed a pair of stars near the western horizon a few days ago, and one of them turned out to be Mercury. My son had chided me recently for never having imaged it (the only planet I had never imaged), so I took a look through the eyepiece. It was quite low when I first noticed it, and the seeing had plummeted…so I didn't bother shooting it. But I captured it last night at 15˚. Shooting below 20˚ for me is usually a fool's errand, but the seeing was quite good at dusk—good enough to make out several albedo features: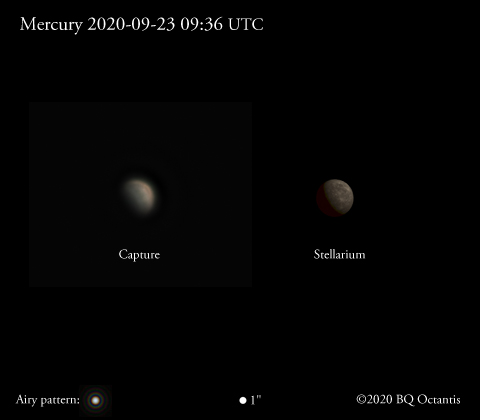 This low, my red channel was my best channel for a change—at zenith it's usually my worst channel.
Cheers,
BQ
Edited by BQ Octantis, 24 September 2020 - 05:43 AM.