Hi there! I just completed a processing of this data, from the Hubble Legacy Archive.
I used Ha data from IPHAS as well, to capture to the extremely faint Ha in the background.
In this image, I mapped 814W to red and 606W to blue. Ha was mapped to cyan.
Here is a link to the image on Hubble's website.
The compression was not kind, so I suggest you view the astrobin link.
Great pastime on cloudy nights, and helps improve processing skills as well.
Here is an excerpt from APOD describing the subject: "Will this caterpillar-shaped interstellar cloud one day evolve into a butterfly-shaped nebula? No one is sure. What is sure is that IRAS 20324+4057, on the inside, is contracting to form a new star. On the outside, however, energetic winds are blowing and energetic light is eroding away much of the gas and dust that might have been used to form the star. Therefore, no one is sure what mass the resulting star will have, and, therefore, no one knows the fate of this star. Were the winds and light to whittle the protostar down near the mass of the Sun, the outer atmosphere of this new star may one day expand into a planetary nebula, possibly even one that looks like a butterfly. Alternatively, if the stellar cocoon retains enough mass, a massive star will form that will one day explode in a supernova. The eroding protostellar nebula IRAS 20324+4057 spans about one light year and lies about 4,500 light years away toward the constellation of the Swan (Cygnus). The above image of IRAS 20324+4057 was taken with the Hubble Space Telescope in 2006 but released last week. The battle between gravity and light will likely take over 100,000 years to play out, but clever observations and deductions may yet yield telling clues well before that."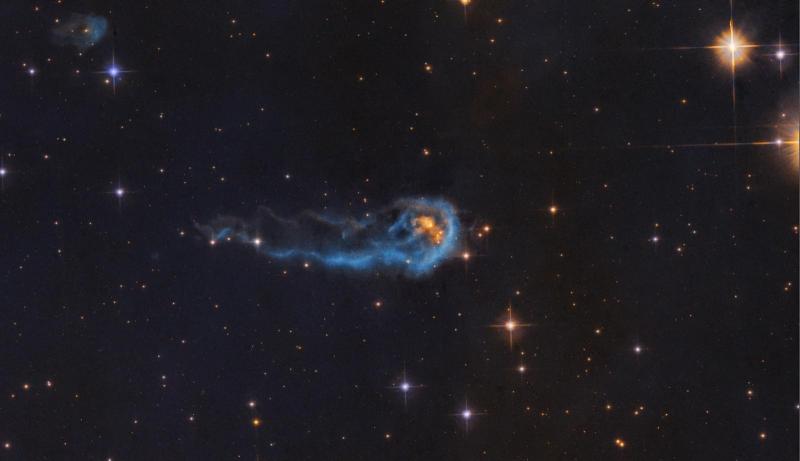 Edited by vnc1218, 24 September 2020 - 06:04 PM.