Hey everyone!
Long time lurker, first time poster here as I'm seeking for advice after some of my results.

A couple weeks back, I had go at imaging the Veil Nebula, but am unhappy with the results and want to improve, the problem I'm facing however, is that I'm not quite sure what's causing the sub par results, which is where I'd love to hear your input!
I'm using the following equipment:
Astrotrac TT320X-AG (No Auto Guiding)
Astrotrac TH3010 Counterhead Bar (properly balanced)
Astrotrac Wedge
Astrotrac Polar Alignment Scope (Not the best, but learned to work with it and manage to get 4mins)
Sirui R-5214X Tripod
Olympus OM-D E-M5 Mk II Unmodded (Definitely not the best, but it's what I have and I've seen others with great results)
Olympus 35-100mm f/2 Pro ED Zuiko Digital (With 4/3 to µ4/3 adapter)
Olympus Zuiko Digital EC-20 Teleconverter (2.0x)
Accessories:
Anti Dew Strip Lens Heater
Pluto Trigger (Bluetooth intervalometer)
Imaging Steps:
After setting up all gear, use a Bahtinov mask to achieve perfect focus (using a bright star)
Get polar alignment as good as possible, testing it by taking varying length exposures and checking if there's any star trailing (Got 4 minutes for this particular image)
Find and frame my target and start shooting away
Once the Astrotrac runs out, I stop and shoot my dark frames, same exact settings (Used to do in camera dark frame subtraction, but that severely reduces my imaging time, so started doing this now (first time))
Post Processing:
Open all the raw files with Camera Raw and apply vignetting correction, slight amount of noise reduction (10 – 20), Highlight reduction (-100 – -90), slight exposure boost (0.2 – 1) and save them to TIFF for Deep Sky Stacker
Add the lights in Deep Sky Stacker and register them, I usually to go for a star detection rate of 1000 on my best light
Ensure that bad images are filtered oud (clouds, light pollution, wind, ...), manually checking the lights to make sure the scores are accurate
Add the darks as well
Stack the images (Lights with Kappa-Sigma Clipping (Default Settings), Darks with average)
Stack it and save the resulting stack as TIFF for further processing
In SiriL apply photometric color correct and occasionally background extraction to combat light pollution
Save the image for further processing in Photoshop where I apply a curves filter to stretch the image
Further adjustments to colour and such, not super relevant to all this
Now, as you can see in the following image, it's not the best, and I would like to know, I've also attached a single light frame (after Camera Raw Corrections)
Stacked & processed image (9 total):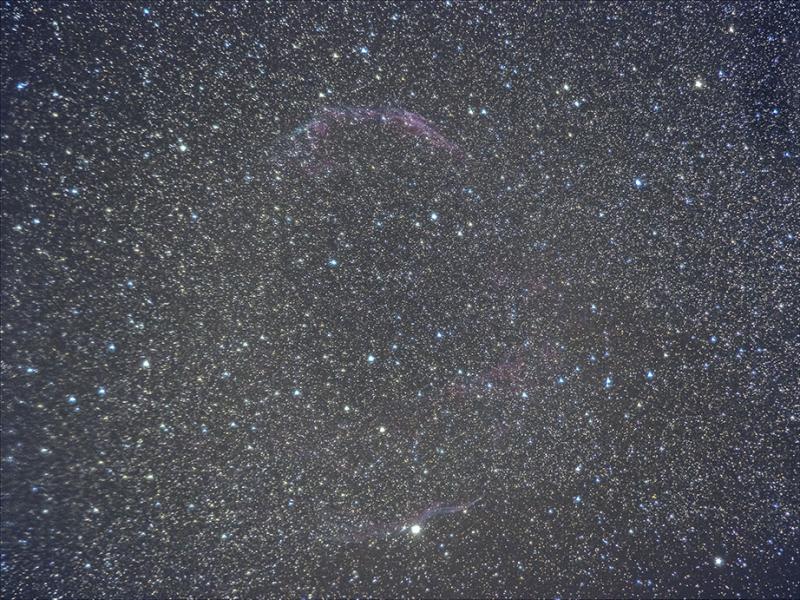 Full size: https://drive.google...iew?usp=sharing
Single light frame: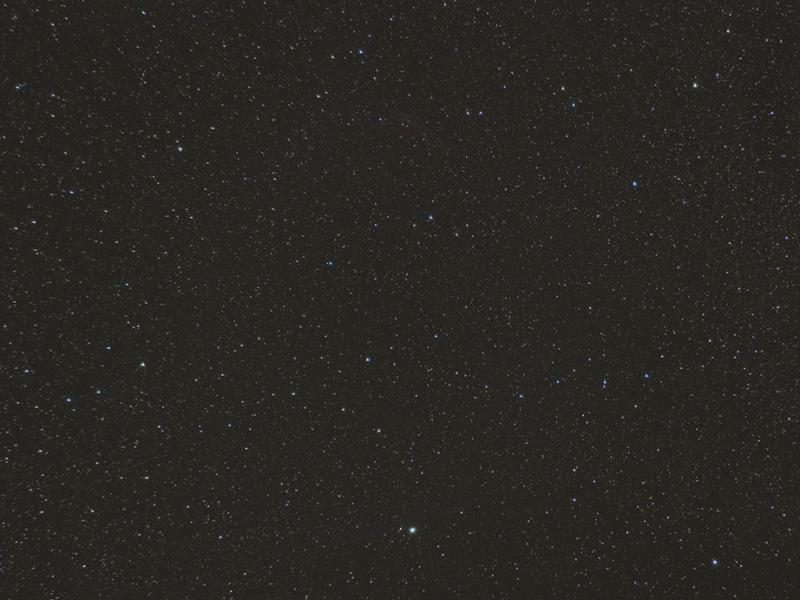 Full Size: https://drive.google...iew?usp=sharing
Each frame is 240s, ISO640, 200mm f/4.0
And here's the raws if you want to have a look yourself: https://drive.google...Zui?usp=sharing
These are already filtered down to the best lights (Out of 30, many had feint clouds or shake due to heavy wind that night)
Note: Please ignore the left side of the image, I think I was experiencing tilt here (or my lens is decentered :/)
I understand there's not many light frames here to work with, but for a 4 minute exposures, I would've expected better
It's as if there's way too many stars in comparison to other images I've seen of the veil nebula
I also understand that my equipment is not the best out there, but I'd like to do with what I have, at most maybe introducing a STC Clip In Filter
So if anyone has input on what could be the problem here, I'd highly appreciate feedback.
I don't know if more lights would do it, because I would think it would just amplify all those tiny stars even more
I do think I'll try stopping down further next time, but doubt that will make the difference
Thanks in advance!
Alex
Edited by AG_Alex2097, 25 September 2020 - 04:32 PM.