Hello All,
I am delighted to share with you my 8th installment of my lunar sketches. As some of you may have noticed I did not submit a lunar sketch last month. This was because my father passed away on the 26th of August. Most of the month was spent in the hospital, or in my sister's house where my father spent the last week of his life. It is incredible to think that on the 30th of July he was up observing the Moon with me. He was completely in awe of what the Moon looked like through the eyepiece, and we observed until the early hours. It is a great memory to have, and I'll always be thankful that we shared that experience. So with this in mind, I am dedicating this sketch to my late father Michael (Mick) Devereux. RIP Dad.
Back to tonight: There were very few targets to choose from. One of the only craters to be positioned nicely along the terminator tonight was Mersenius P.
The crater is named after Marin Mersenne. He was a French theologian, mathematician, and physicist who lived between 1588 and 1648. He is most known for 'Mersenne Prime numbers, and Mersenne's Law. That latter helps us to understand the vibrations of string instruments such as a guitar or a piano.
Mersenius P has a diameter of approximately 42km, and can be found at 19.9° S and 47.8° W. It is a well defined oval-shaped crater. It walls appeared rather steep, and its eastern rim was illuminated. To the north of it are two well defined smaller craters. Over the course of my observation I noticed two triangular shaped shadowy peaks south of Mersenius P. These were quite striking, particularly the one closest to Mersenius P as it had another well defined crater. For these reasons, it is a nice area of beginners to sketch.
Other notable features from this area of the lunar surface were the spurs that looked like couple of fingers pointing towards Gassendi and Mare Humorum.
Other details from that evening include:
Location: Dundrum - Bortle 8
Seeing: 6pk
Transparency: 4- 5
Instrument used: f/5 250mm Newtonian Reflector
Eyepiece: 9mm Expanse (66° AFOV) with 2X Barlow
Magnification: 278X
Materials used: 2B, 4B, and BB pencils, a kneaded eraser, a blending stump, and an eraser shield. The image was sketched at the eyepiece, cropped and reszied using GIMP 2.1. The sketch was scanned, and uploaded to my PC.
As always many thanks for taking the time to read the above, and your comments and feedback are always welcomed.
Clear skies to all,
Darren.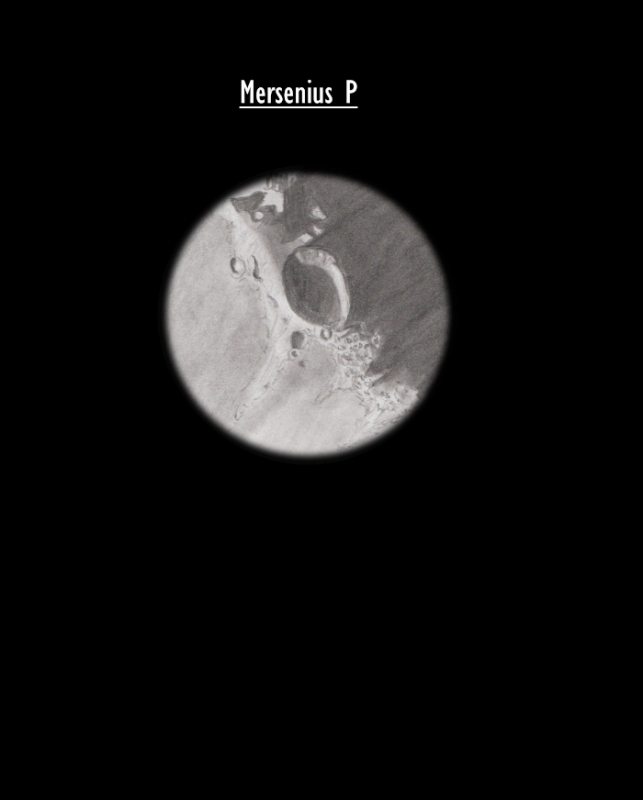 Edited by DDEV, 28 September 2020 - 08:32 PM.