The GoTo on my mount has died. So in spite of the sky clearing by dusk, I only reluctantly set up—it was the good seeing prediction that compelled me. The sidereal track still works fine, so I took a peek at Jupiter. At dusk, the seeing was good, and there was a white NTrZ emerging from the terminator. By nightfall, the seeing was excellent, and one of the bright white storms in the NTrZ was prominently on the meridian. So I couldn't help but grab a snapshot (about 30 minutes ago):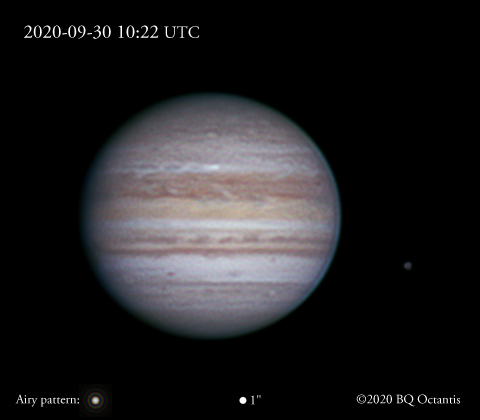 Skywatcher 180 Mak, Fujiyama 12.5mm orthoscopic, Canon 600D/T3i
Oval BA was lurking on the terminator, so I didn't notice it through the eyepiece—but at least it provides an orientation reference for the storm.
Cheers,
BQ
Edited by BQ Octantis, 30 September 2020 - 06:14 AM.