It was clear on the 26th so I took the opportunity to get outside. Having had high northerly winds before the seeing predictions weren't good. I gave Jupiter and Saturn a 1/5 for showing up, but that was being generous.
So I had another go at collimating on Altair, remembering this time to tune the ADC first

. I couldn't see the diffraction pattern on screen but after taking a video with 1ms exposure and running it through AS!2 and Registax this is what I got.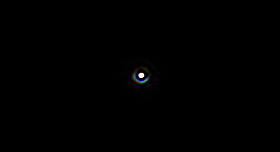 Since it wasn't worth doing much with the planets directly I thought I'd do a bit of moon hunting.