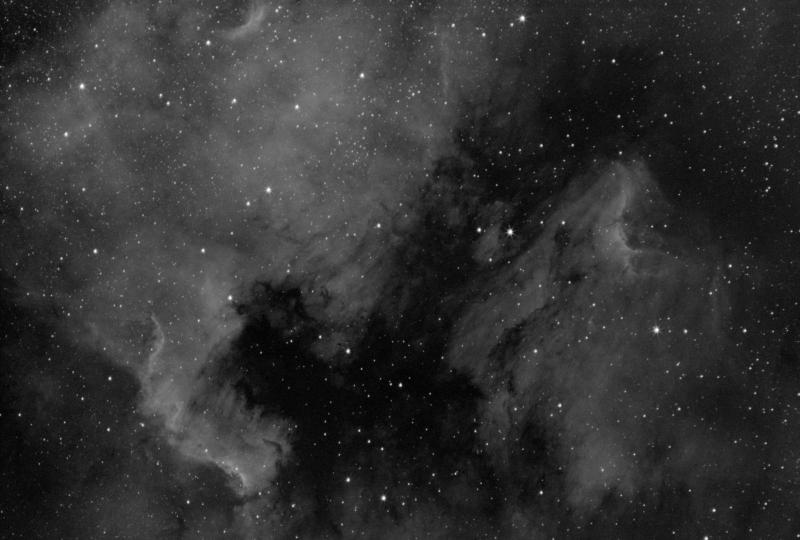 So we finally had some clear skies here on Vancouver Island. The internet tells me that the moon was~95% full when I shot this on 29 Sept. Fortunately, this target was far enough away from the moon to get reasonable contrast with the Ha filter.
Guiding was terrible on this object. I think my ASI290mc guide camera really struggled with the bright sky. I weeded out about a third of subs. Probably should have tossed a few more based on the oblong stars.
Anyway, this is first light on an old Pentax Takumar 135mm f/2.5 that I got from eBay a month or so ago. With the ASI178mm camera, this lens provides a calculated image scale of 3.65"/pixel. Despite my carping in the first couple of paragraphs I'm quite happy with this lens, and the picture. Stars on the left appear rounder than those on the right. We may have a few clear nights next week - I'll try again with darker skies and improved guiding.
Equipment
Camera: ASI178mm uncooled
Lens: Pentax 135mm f/2.5 closed two clicks to f/4
Mount: Celestron Nexstar SE alt-az, homemade equatorial wedge
50mm guide scope
ASI290mc guide camera
SVBONY 7nm H alpha filter
Acquisition
24 x 300 sec light
12 x 300 sec dark
125 flat
125 dark flat
Software/Processing
Sharpcap for polar alignment and acquisition
PHD2 for guiding - Dithered every frame. Due to huge backlash, guiding and dithering is in RA only.
DSS for stacking 2x drizzle applied
Post processing in GIMP
stretch
curve adjustment
crop stacking artifacts
layer duplicated and combined using "multiply" option, 80% opacity. **This is something I'm playing with in GIMP. It seems to greatly remove noise from dark areas, but dims the whole image and adds a bit of noise to lighter areas. Sliding the opacity slider really allow you to change the effect. I settled on 80% opacity today.**
stretch
Anisotropic smoothing (noise reduction)
Thanks for looking.
Al