Who has been reading my stories, knows I have been waiting for this telescope for almost five months. Since May, 19th, to be precise. The day I went to the TS Italia store and saw for the first time the SLD model, model now discontinued. I even missed the last available piece just for a few days, once I finally placed my order, June, 25th. It was to be replaced by a newer model, available at the end of the Summer.
Boy, am I glad I did miss it. The wait was definitely worth it. The new and improved model is simply beautiful. I fell in love with it as soon as I saw it on the Tecnosky website a few weeks ago, when they posted the product sheet. But in person, it's even more beautiful.
So, the people from the store emailed me Friday, October the 2nd, telling me that it was finally available for pickup. I read the message only a whole hour later and it was soon going to be closing time. I started calling at 4:30 PM and I finally managed to get my phone call through at around 5:05 PM. The store closes at 6:00 PM and doesn't reopen until Monday. And it's 40 minutes away from where I live. I made it there in 35. There was no way I was going to have to wait till Monday, knowing my scope was only a few minutes away.
So, here's the pre-unboxing picture: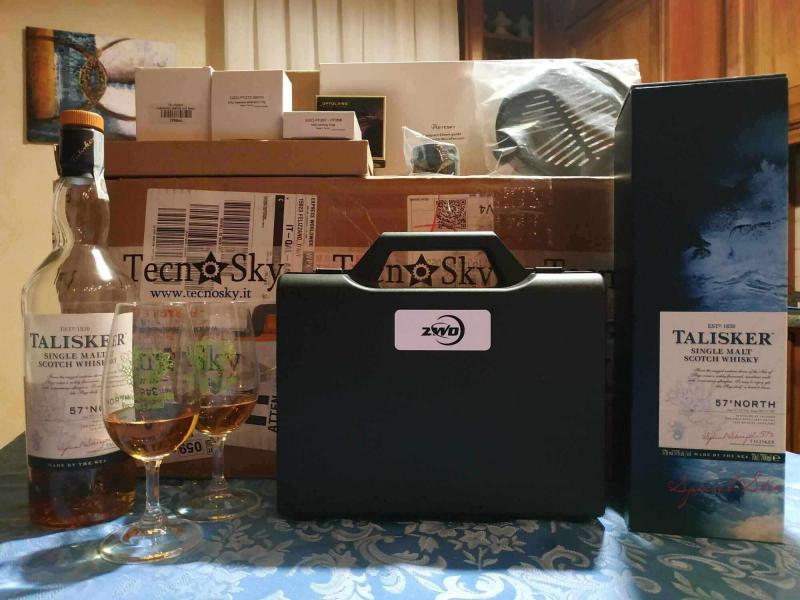 - top left, brown box, behind: Vixen clamp for guide-scope
- top right, white box: 60mm f/4 guide-scope
- top left, white boxes: T2 Nikon ring, 30mm spacer, adjustable spacer
- center, behind white boxes: Optolong L-Pro 2" filter
- right of filter: spacers mounted and already calibrated for 55mm backfocus, for eventual use of the ZWO ASI 224MC camera with the refractor
- top right, Bahtinov mask
- underneath the white boxes, top left: Losmandy bar to attach telescope to my NEQ6 Losmandy saddle
- big box underneath all of the above: Tecnosky 80mm f/6 FPL-53 OWL Triplet, with carrying case and 0.8x 4 elements flattener/reducer
- ZWO black case: ZWO ASI 224MC guide-camera / planetary camera
- front left: Talisker 57° North and two glasses (don't mind the shape of the glasses, they are the closest to Whisky suitable glasses that I currently own...) ready for me and my wife to celebrate the end of the wait
- front right: box for the aforementioned Whisky
I actually waited for yesterday (Saturday, the 3rd) for the unboxing, because I wanted my best friend Omar to be present and help me with filming and taking pictures. We have been friends since we went to kindergarten and we always have had astronomy as a common interest.
It just so happens, to my immense surprise, that my telescope is actually SN. 0001, so I own the first telescope ever produced of this new series. The certificate is also very promising, with a Strehl ratio of 0.974 and a Ronchi test that seems very well behaved. I like a little less the red edges on the lenses, but I guess only time and a proper visual - and astrophotographic - session will be able to tell.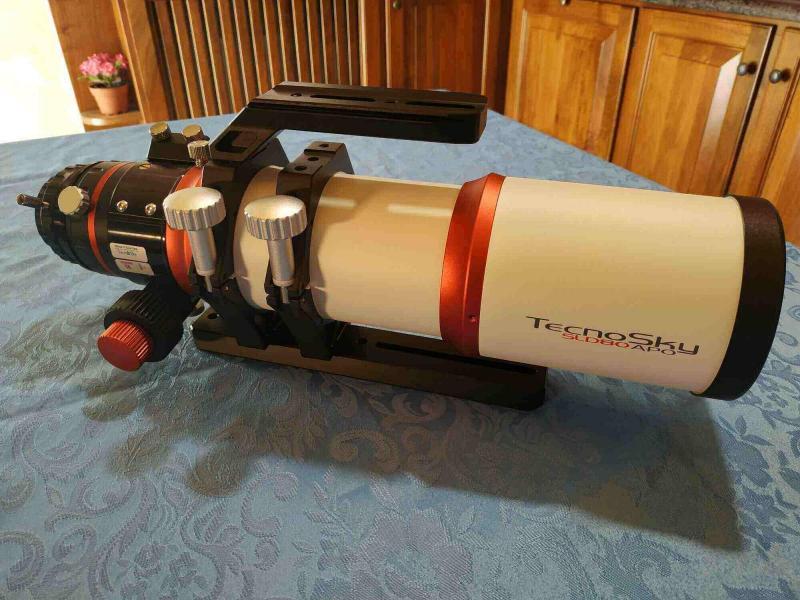 Obviously the "new equipment curse" didn't help, but we got almost a whole hour with clear sky patches and obviously I couldn't pass up the opportunity. I quickly setup with the bare minimum necessities for a visual observation and me, my wife and my best friend Omar - who helped with the staging, recording and directing of the unboxing event - took a quick look at the Moon, Saturn, Mars, M31 and Perseus Double Cluster.
I can definitely understand now, even if the seeing wasn't perfect, and my eyepieces didn't offer enough magnification (25mm and 10mm give me 80x and 200x, with my C8, but with a native focal length of 480mm, even with a Barlow 2x, we could only achieve about 38x and 96x, respectively), what people mean when they say that an apochromatic refractor brings out the objects from the background sky. The contrast was stunning, the stars were absolute points, pinpoint, small and sharp (with my C8 they always have kind of a "blob" feeling), the contrast on the Moon was fantastic and I could see many details, despite it being almost full, and only at 48-96x. I think it passed the visual test with honors. I was also very happy to be able to see the Double Cluster all in the same field of view for the first time. Saturn was well defined, could clearly make out the rings - don't recall, in all the excitement, rush and cycling between me, my wife and my friend, if I saw the Cassini division, but I'll definitely try again next clear sky night. Mars was also beautiful, could clearly see its rusty red color, the polar cap and some darker, black features on the surface.
I really can say it's a beautiful telescope, very well made and machined. The attention to details is really of another level, the paint finish is very nice and matte. Also very lovely all the different red and black anodized surfaces, they really give it a nice finish and personality. The focuser is also the best I have ever had on a telescope. Very smooth, precise, with no backlash. Coming from a C8 where every touch of the focuser throws off the image all over the place and the backlash is quite significant, I really appreciated how easy it was to fine tune focusing with a proper focuser, especially with the 10:1 focusing knob.
I can't wait to be able to take the first pictures of some star field, to check if even photographically the telescope lives up to my expectations. I hope to get pinpoint stars corner to corner and that the backfocus won't be something too hard to make perfect.