Hello, We recently had to take down two trees in our back yard that were dying from an incurable root rot. One was in the corner of our yard directly blocking Polaris. For the last three years, I've been imaging to the right of Polaris, and up and over to the west. That was my only visible area.
I'm exploring my options for putting in a non-permanent / semi-permanent (could be taken down if I had to) observatory.
I have approximately enough room to do a 6-foot dome or something of that size, and not much more. The fence in the images is 6 feet tall, which means the bushes are about 12 feet tall and would sit as "walls" on either side of the telescope. So I need to raise it up off the ground quite a bit, and might have to trim the bushes diagonally on either side of the telescope so I can image at a lower degree altitude.
Also, this area is in my easement, which is 8 feet from the fence. This is why it can't be permanent. I also have an HOA who doesn't like structures taller than the fence, but there are a TON of structures in our neighborhood taller than the fence, from kid jungle Jims to those back yard storage shacks, so I think I can get away with it as long as it's not permanent.
I'm looking for recommendations on smallish observatory designs that could fit in that area. Recommendations for elevating the observatory. I'm thinking it could have a manual tilt off roof, or possibly a dome, but putting it up there myself will be a chore. Also any guidance on issues I might face doing this in an HOA regulated neighborhood if someone else has attempted the same. I could also forgo a pier and keep the mount on it's tripod assuming I can make the platform stable with a bed of rocks or something. I would want to bug proof it, as we're in the south, where there's lots of bugs and it's humid.
Since this is in my back yard, I'll just run ethernet and power back there and image from inside the house. I don't need much standing room, just room for the telescope to move around. I'll permanently house the Edge 11 scope inside it on the GM1000 mount. And maybe (infrequently swap it out for a smaller refractor like my Esprit 100. But I do have a very portable Rainbow Astro mount which will run the esprit and is easy enough to carry outside and put on our deck which isn't in the photos.
First photo is a panorama starting west and panning north then east of the full back area.

Closer view of the corner where the observatory would go. I put a circle with the approximate location of Polaris. I've never imaged to the south because my home blocks the view, so in this position, I think I'll be able to shoot over my roof. Also note the bushes here. The fence is at 6', so the bushes are at least 10-12'. My wife likes the bushes, and while upset the trees had to come down, and has encouraged me to look into a permanent setup for the telescope, she doesn't want the bushes touched if at all possible.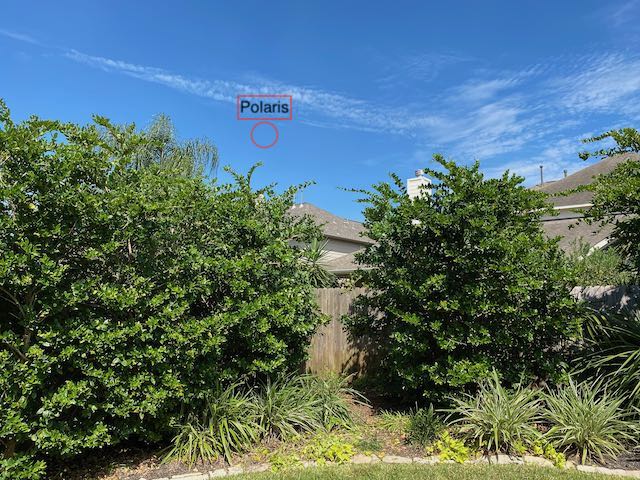 Finally, the ground where it will sit showing the available space.