Last night we had opposition of Mars - so it's good time to show effects of my small project from September 2020.
Unfortunately in Poland last two weeks were full of clouds

But I had a lot of nice data from Setpember and thanks to that data I was able to finish map of Mars surface (albedo surface map).
I used photos which I made 3, 8, 12, 15, 22 and 28th of Septmeber. This so broad time allow me to register whole planet surface when it was on high altitude with nice seeing conditions (sometimes with perfect seeing).
So I created different part of surface map using WinJupos and photos from that days (some tutorial how to do it will be below in that topic)
Then I connected all of this maps made, in equirectangular projection, to one and I packed it to WinJupos once more to create 3D simulation of planet rotation. Effect of this project you can see below - first GIF is standard animation and second one is made in 3D anaglif technique (you need to use red-cyan glasses to look on it, if you don't have it - you can use red and blue astronomic filters also

)
All photos made using Astrofaktoria Newton 350/1400 on NEQ-6 mount + ZWO ASI 178 MM-C camera with Baader RGB filters
BELOW LINKS - GIFS ARE TOO BIG TOO PLACE IT DIRECTLY
https://cdn.astrobin...294b4598f71.gif
https://cdn.astrobin...0ceba954212.gif
Below map which I mentioned before and which I created in WinJupos using my photos from September.
On next post I will describe how you can do this kind of animation by yourself.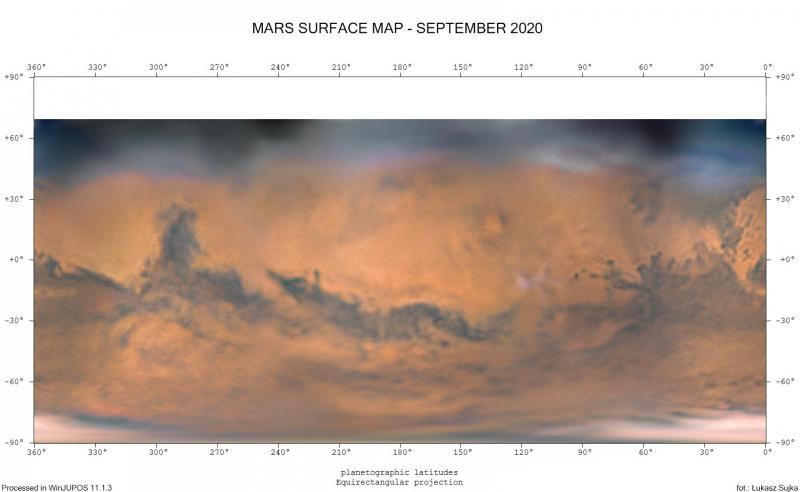 Edited by Lukasz83, 14 October 2020 - 07:22 AM.