I decided that I needed to image Mars. I'm not real happy with the session. Here is the best:
Any advise on how to improve the images will be appreciated.
]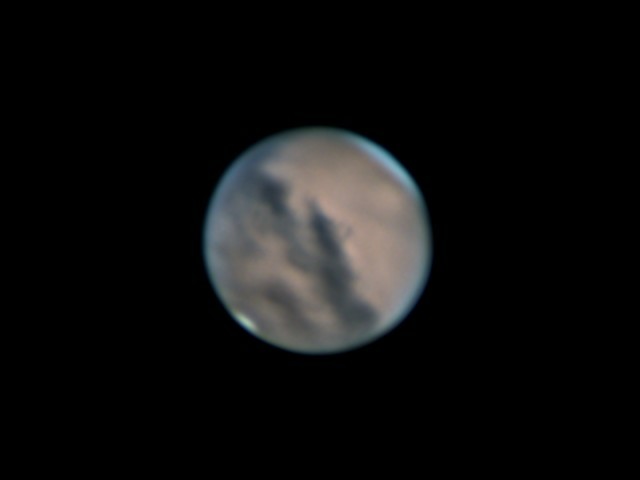 Here are the Firecapture log.
FireCapture v2.6 Settings
------------------------------------
Camera=ZWO ASI462MC
Filter=IR
Profile=Mars
Diameter=22.16"
Magnitude=-2.59
CM=230.7° (during mid of capture)
FocalLength=6750mm
Resolution=0.09"
Filename=Mars_221240.avi
Date=151020
Start=221110.617
Mid=221240.621
End=221410.625
Start(UT)=051110.617
Mid(UT)=051240.621
End(UT)=051410.625
Duration=180.008s
Date_format=ddMMyy
Time_format=HHmmss
LT=UT -7h
Frames captured=25368
File type=AVI
Extended AVI mode=true
Compressed AVI=false
Binning=no
ROI=640x480
ROI(Offset)=648x312
FPS (avg.)=140
Shutter=2.000ms
Gain=263 (43%)
AutoGain=off
WRed=52 (off)
FPS=100 (off)
Brightness=1 (off)
USBTraffic=100 (off)
AutoExposure=off
HighSpeed=on
SoftwareGain=10 (off)
AutoHisto=75 (off)
Gamma=14 (off)
WBlue=95 (off)
Histogramm(min)=0
Histogramm(max)=94
Histogramm=36%
Noise(avg.deviation)=n/a
Limit=180 Seconds
Sensor temperature=30.4°C
Thank you,
Jeff
Edited by MyBluOx, 16 October 2020 - 01:19 PM.